Hello!
I am Alex Bergin and this is my portfolio of past projects and experiments. My work is focused primarily on interactive, motion, and printed design but I dabble in everything from programming, 3D design, and photography. This website contains most of my major projects and explorations into design.
Experience
Little Things Labs
August 2012 - Present | Design Apprentice
Detroit, MI
Compuware
May 2012 - August 2012 | Designer / Intern
Detroit, MI
ShannonLoren
June 2011 - May 2012 | Designer / IT
Royal Oak, MI
Education
College for Creative Studies
B.A. Graphic Design
Class of 2013 (Winter)
Pinckney Community High School
General Education
Class of 2009
Abilities
Physical
I know several common methods of book binding and building, can work with xacto blades (I have the scars to prove it), have lots of experience with wood and some metal crafting, and can work with setting up networks and all things hardware related.
Digital
I can work expertly with the entire Adobe Creative Suite and any office software, most database management tools, Processing, HTML, Javascript, CSS, PHP, AS3. I'm also pretty handy with a camera, still or video.
Awards & Memberships
AIGA
Member of the Detroit CCS Student Chapter since March, 2012.
College for Creative Studies
Multiple pieces in the end of the year show every year since enrolement.
Maximum yearly scholarship for talent.
Ann Arbor Art Center
Member 2009-2010, winner of the annual Potential award.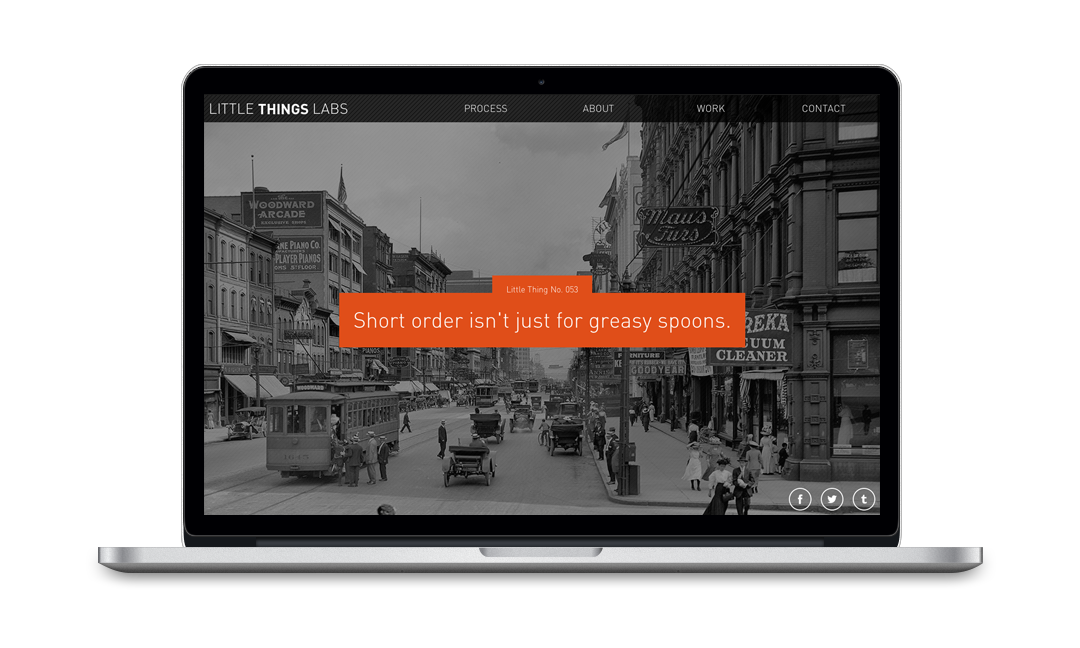 This is a work in progress version of my re-development of the Little Things Labs portfolio website. It has been designed to be scaled intelligently over any size screen.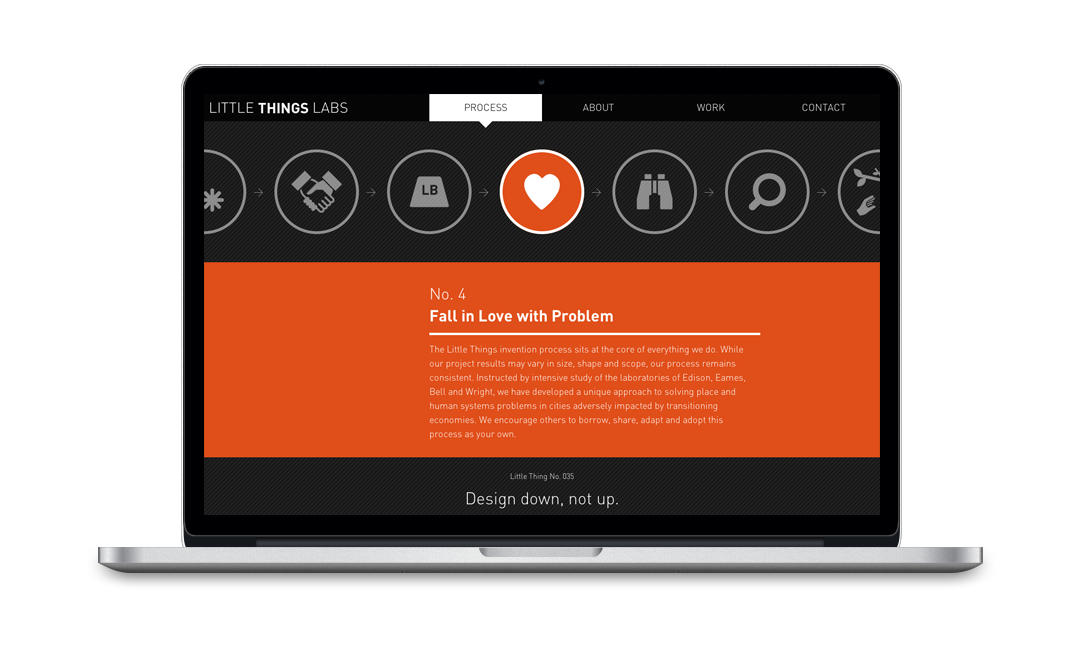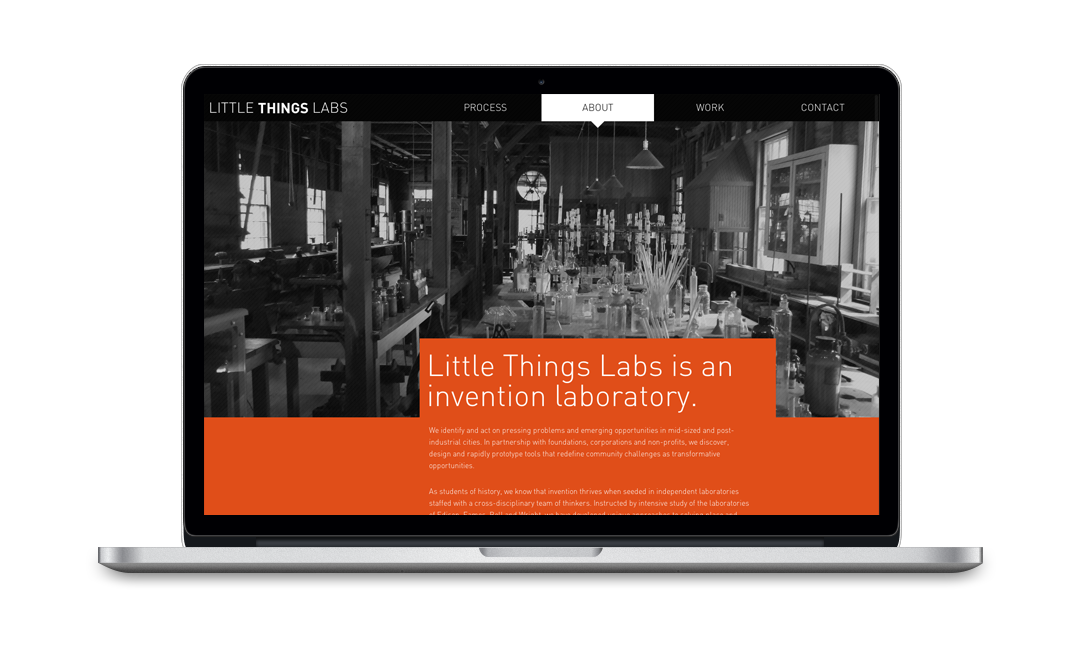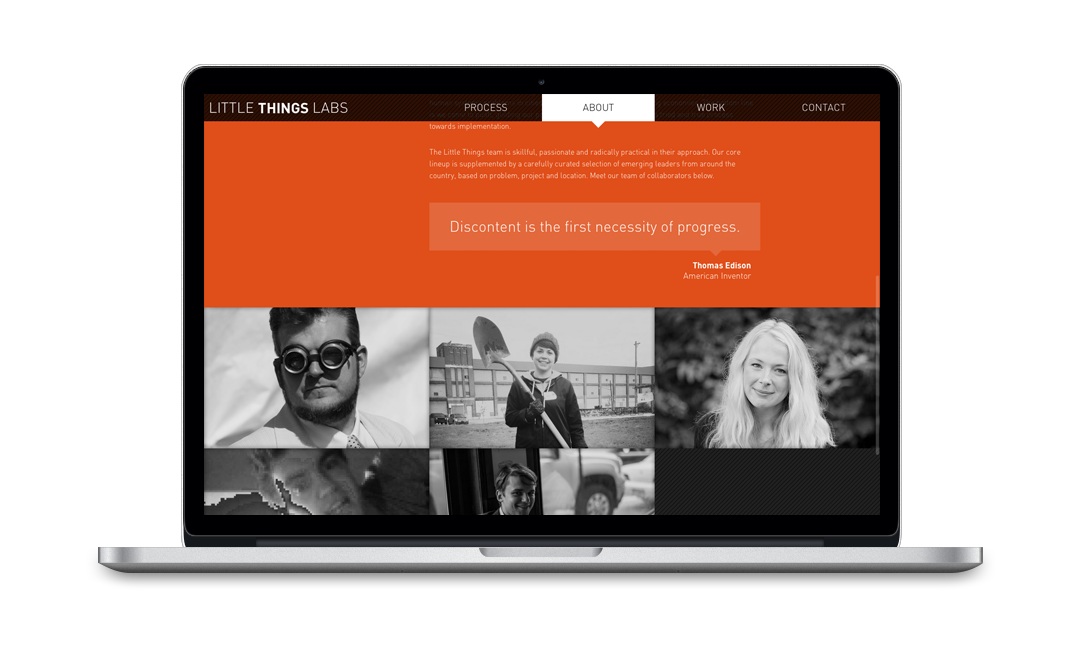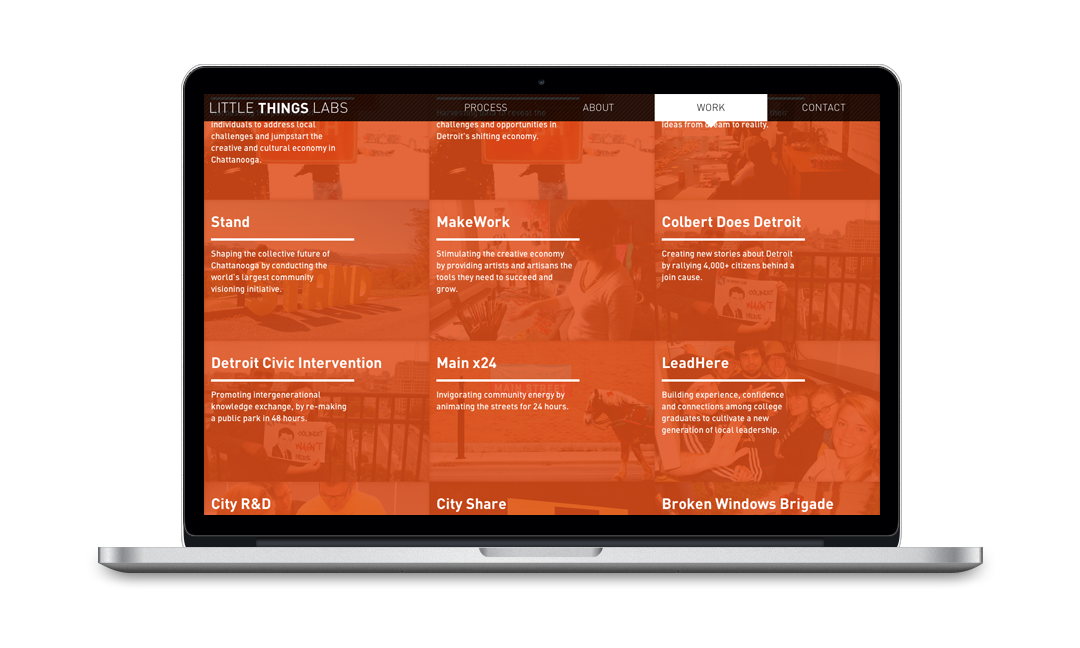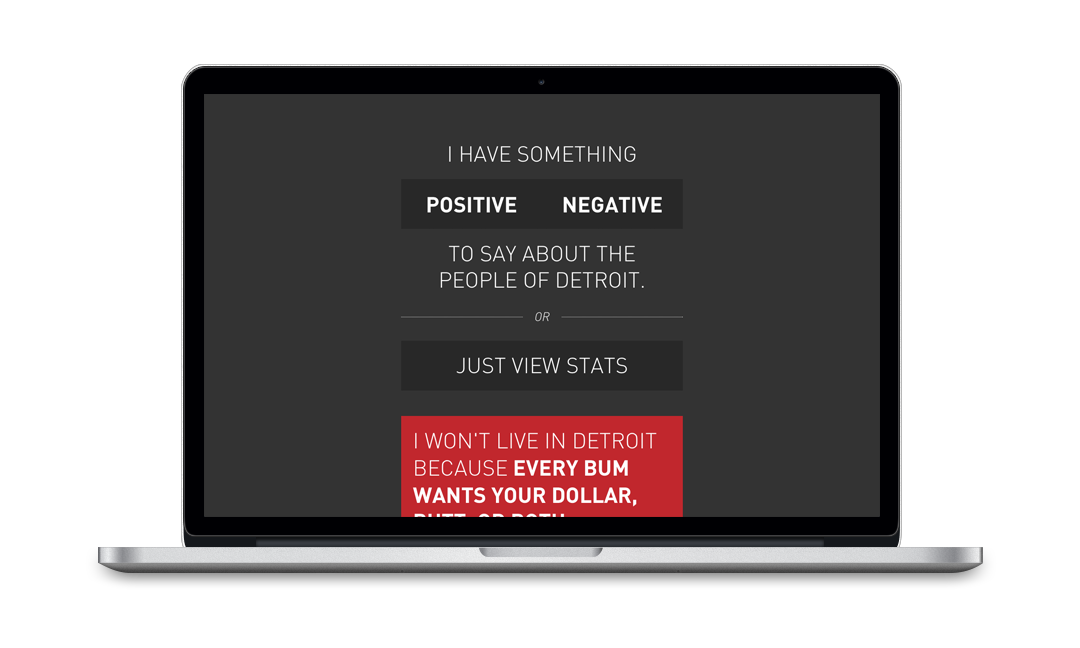 Who is Detroit was a project undertaken by
Nick Janezcko
and myself to study what people would say about Detroit in an anonymous situation. Users are prompted with a screen that asks for either a positive or negative thought and then given a corresponding question to answer about Detroit.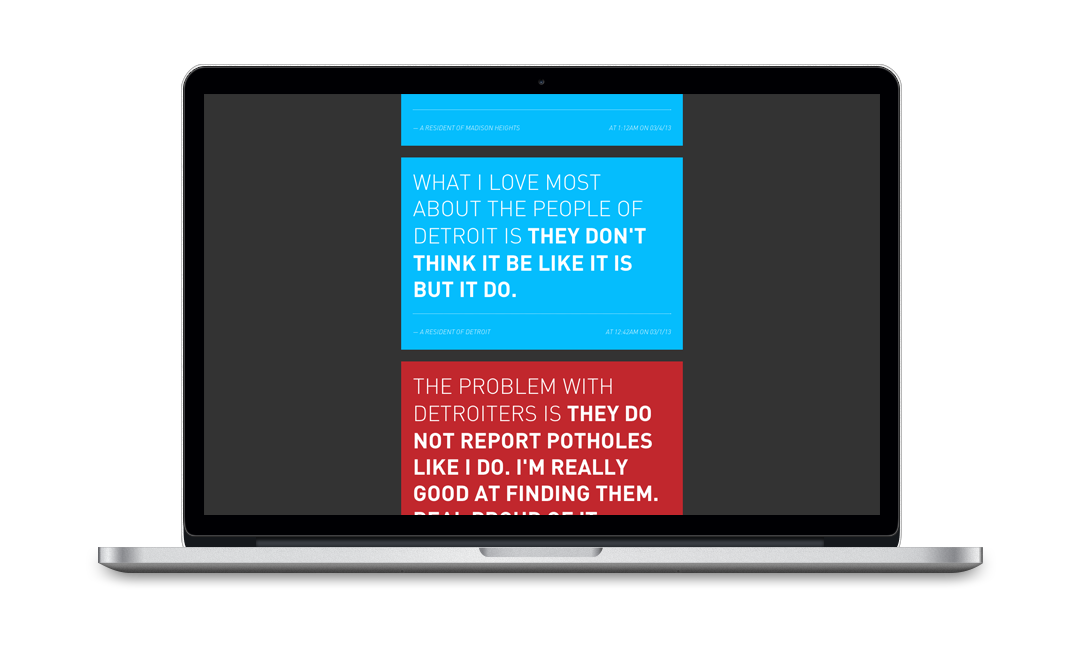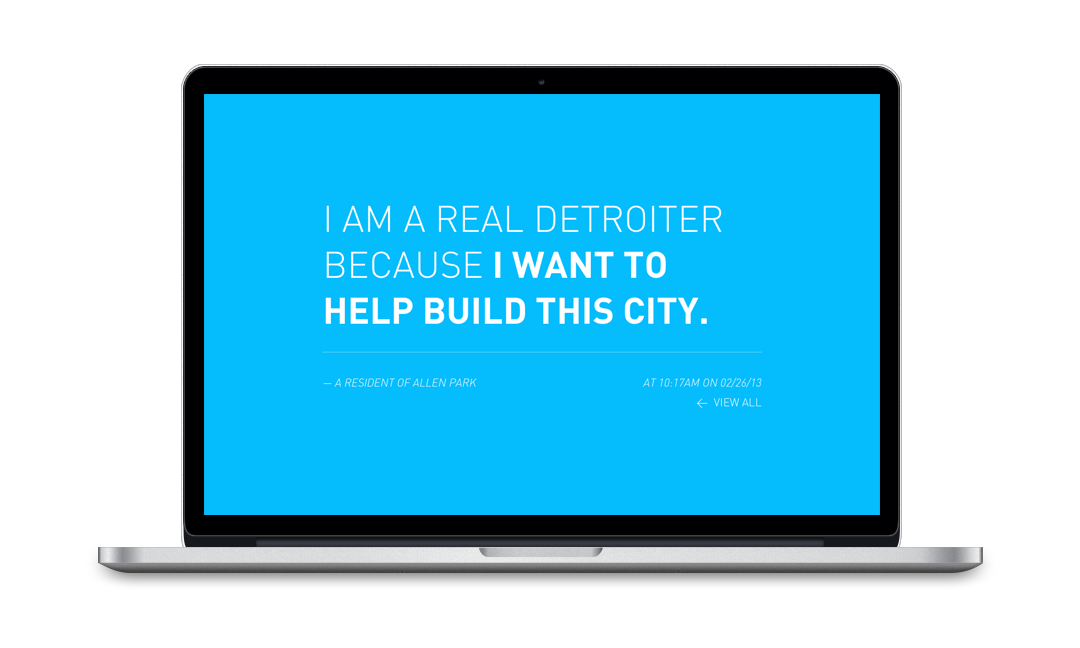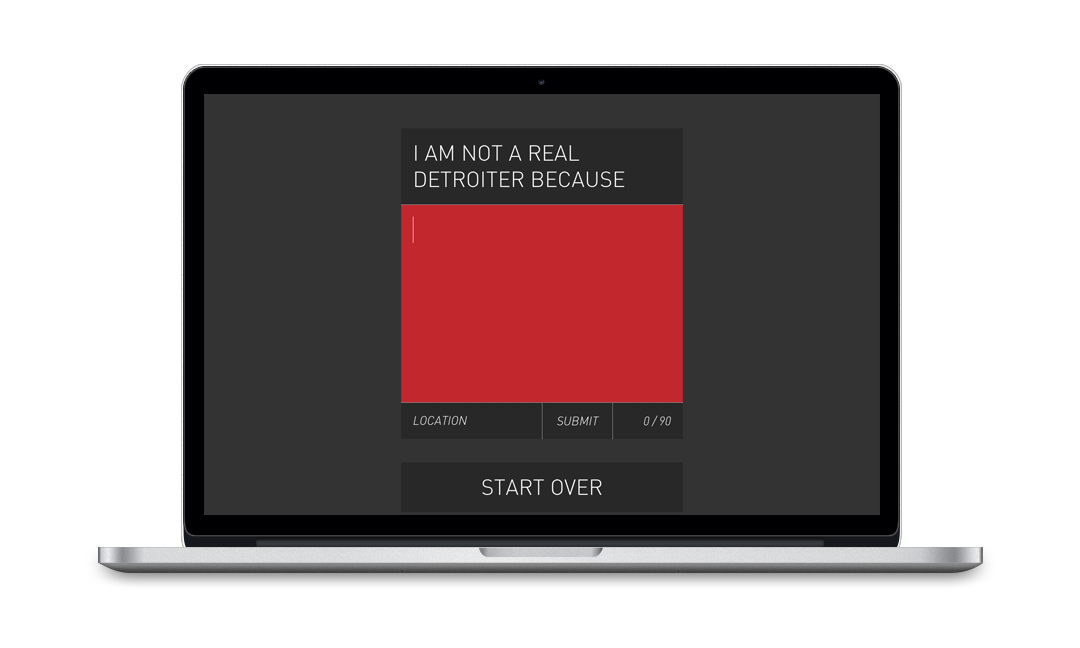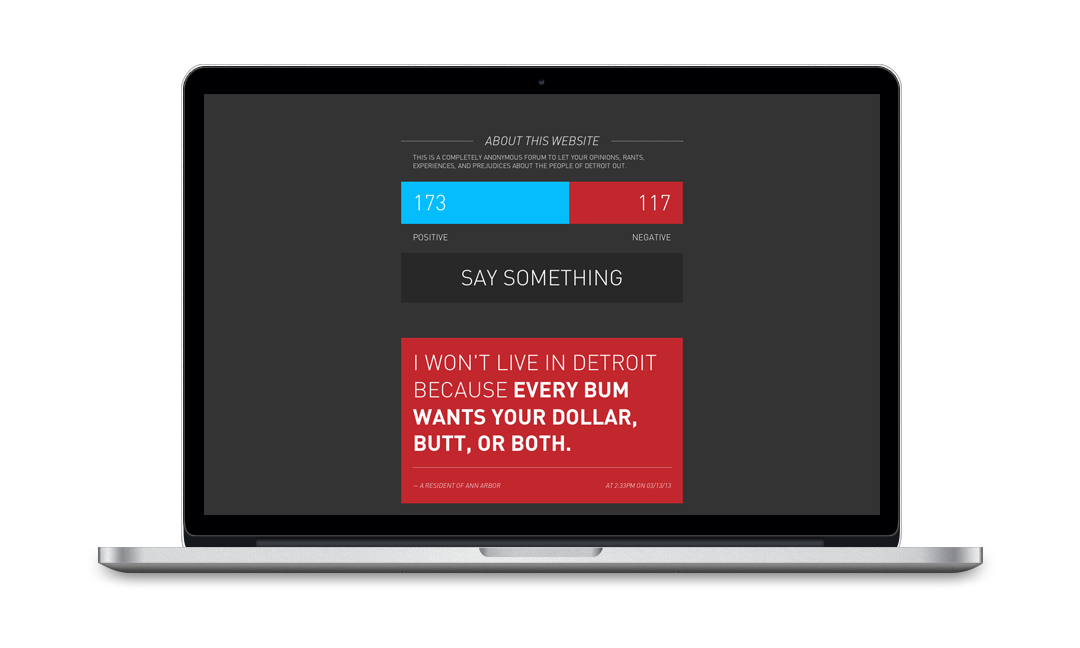 To be posted soon:
This project was continued with the development of a sign that directs users to the site with a more direct prompt such as "What are your thoughts on midtown?" The sign would then light up either red or blue, depending on what the latest reply on Who is Detroit.
Steam
Date: 02 / 22 / 2013
Medium: Digital / Branding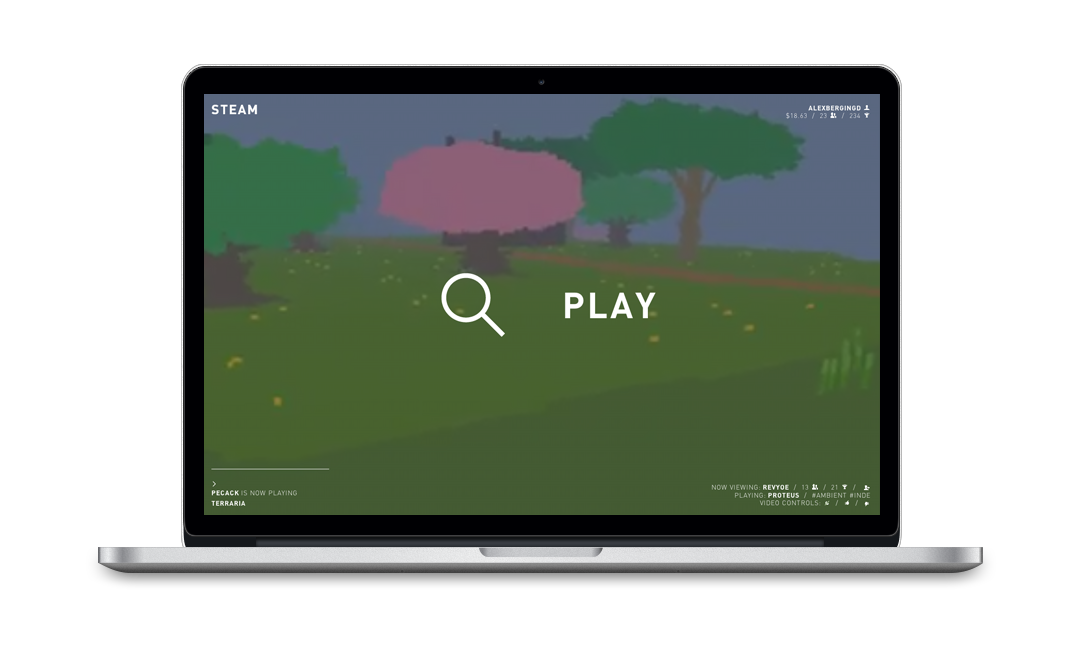 Steam is a community and storefront by and for people who enjoy playing and creating video games. It manages all of the digital rights of the users and submitters of games and serves as an automatic arbiter between the two parties to make the sale and purchase of games as smooth as possible.

It is also a collection of individuals that love to play, create content for, and share their experiences with games to their friends and other game enthusiasts.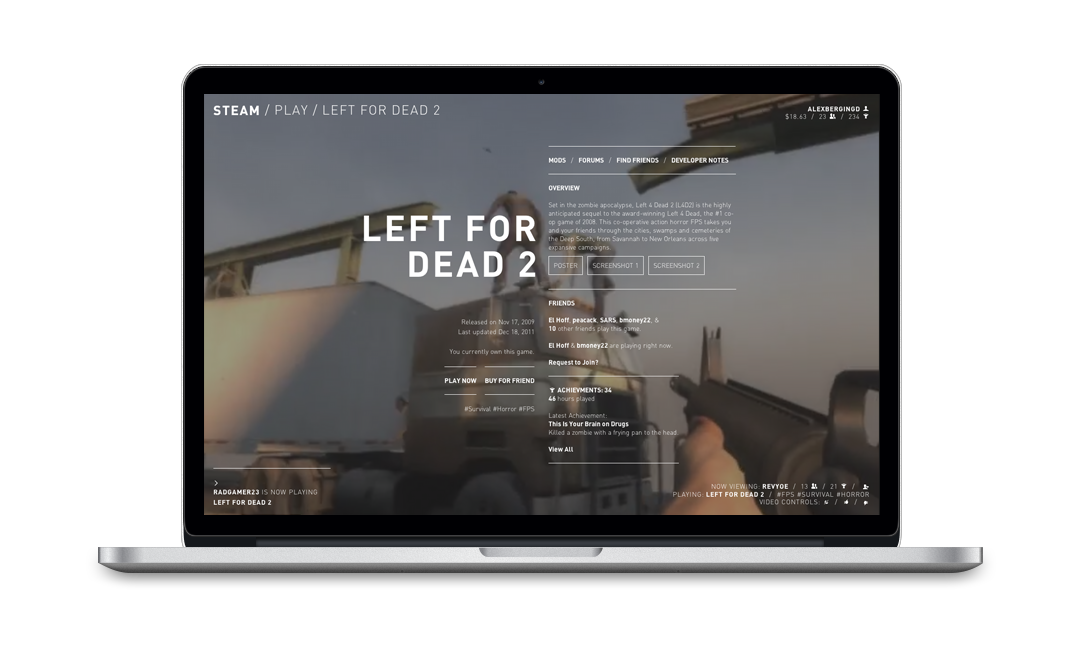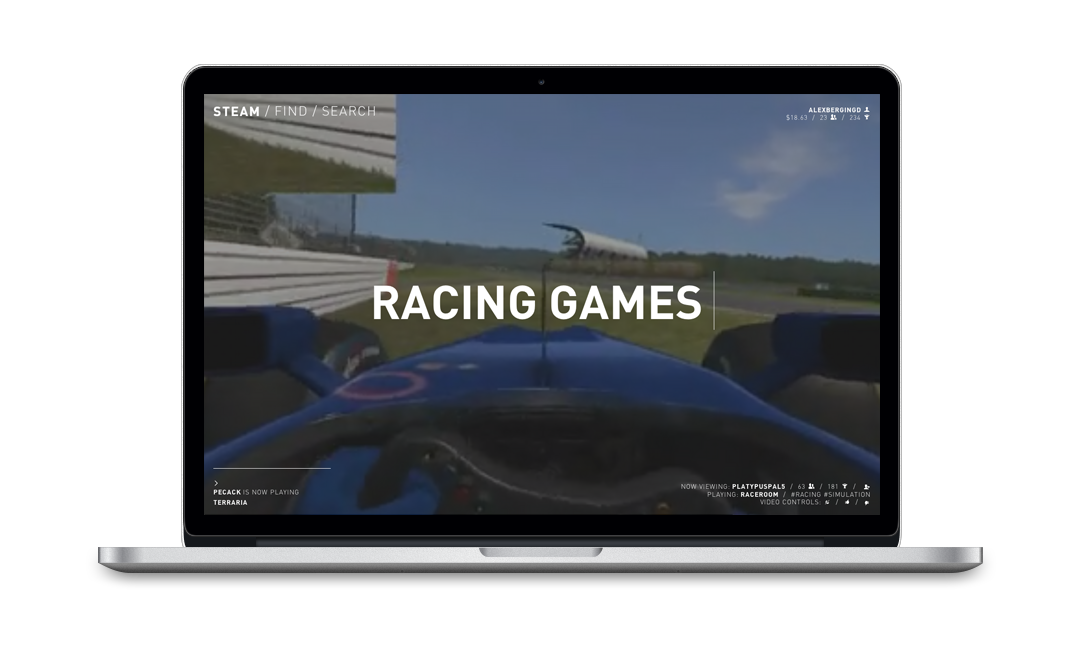 This redesign primarily focuses on enhancing the community aspect of Steam through a live feed of actual gameplay ever present in the background. These videos will shuffle through a tailored queue of clips ranging from what your friends are playing now, trailers for games that might interest you, and games you enjoy that other people are playing right now.

A new Steam app will also be developed to accompany the use of the program while playing a game. This will allow you to chat via your phone or mobile device with people in game, look up walkthroughs or guides, and purchase other games all without requiring you to pause you're currently playing.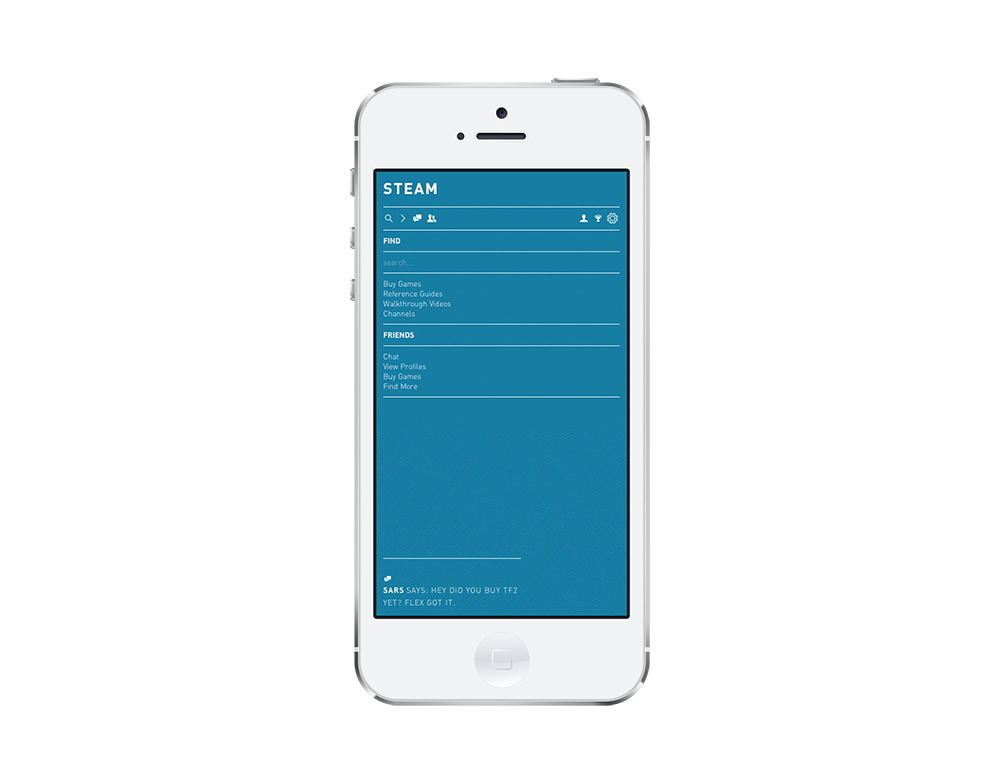 Please follow the link below to view the full guide/brief to the new Steam interface.
8MBA
Date: 11 / 18 / 2012
Medium: Branding / Print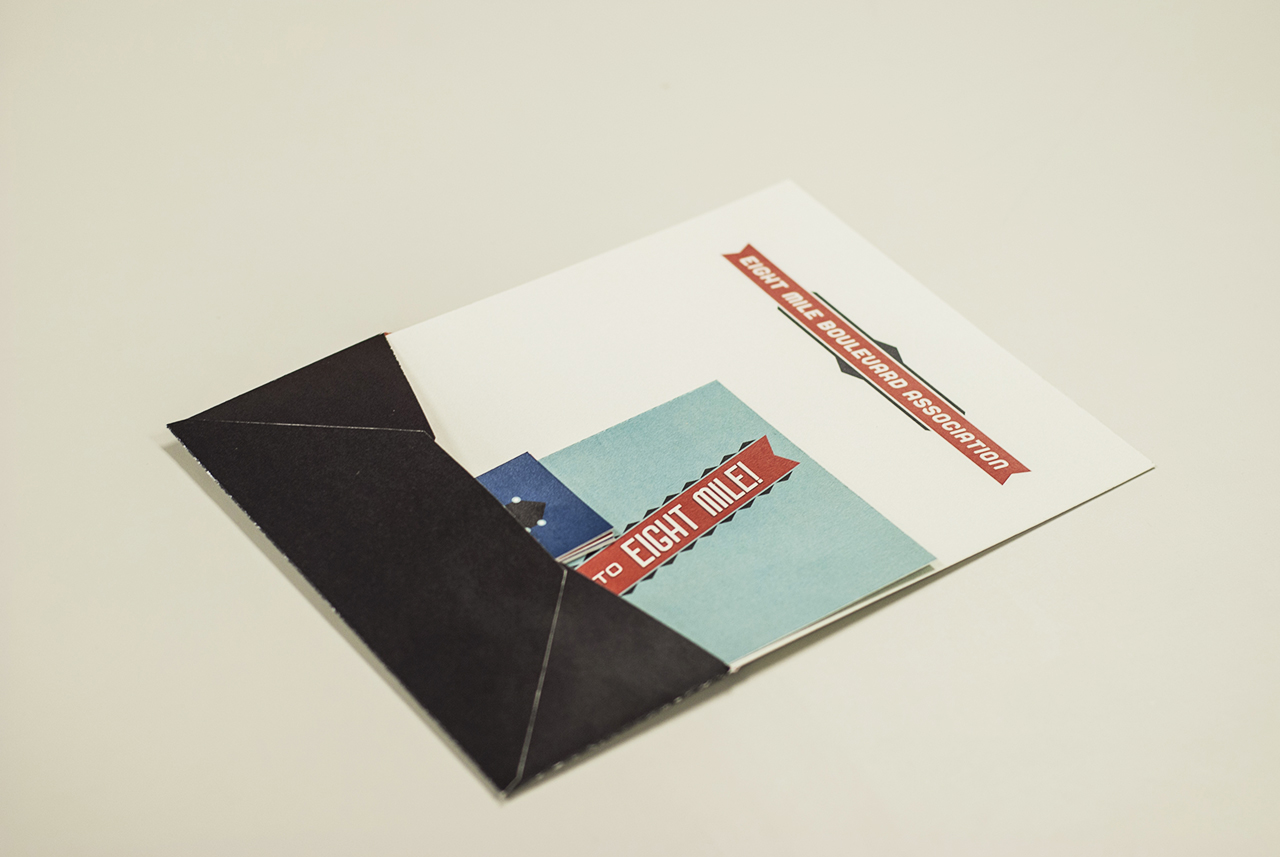 The Eight Mile Boulevard Association was a sponsored branding project undertaken at CCS that I worked on with
Karen Timmermann Urquiola
. The project began with initial research into Eight Mile, types of technology/information systems that related to the boulevard, and several client presentations. Over the course of a semester, the team I worked with developed a new identity system for 8MBA that included a custom typeface with 7 weights (one of which was a dingbat weight that produced the unique signage) and all of the printed material you see here as well as a brand guidelines book.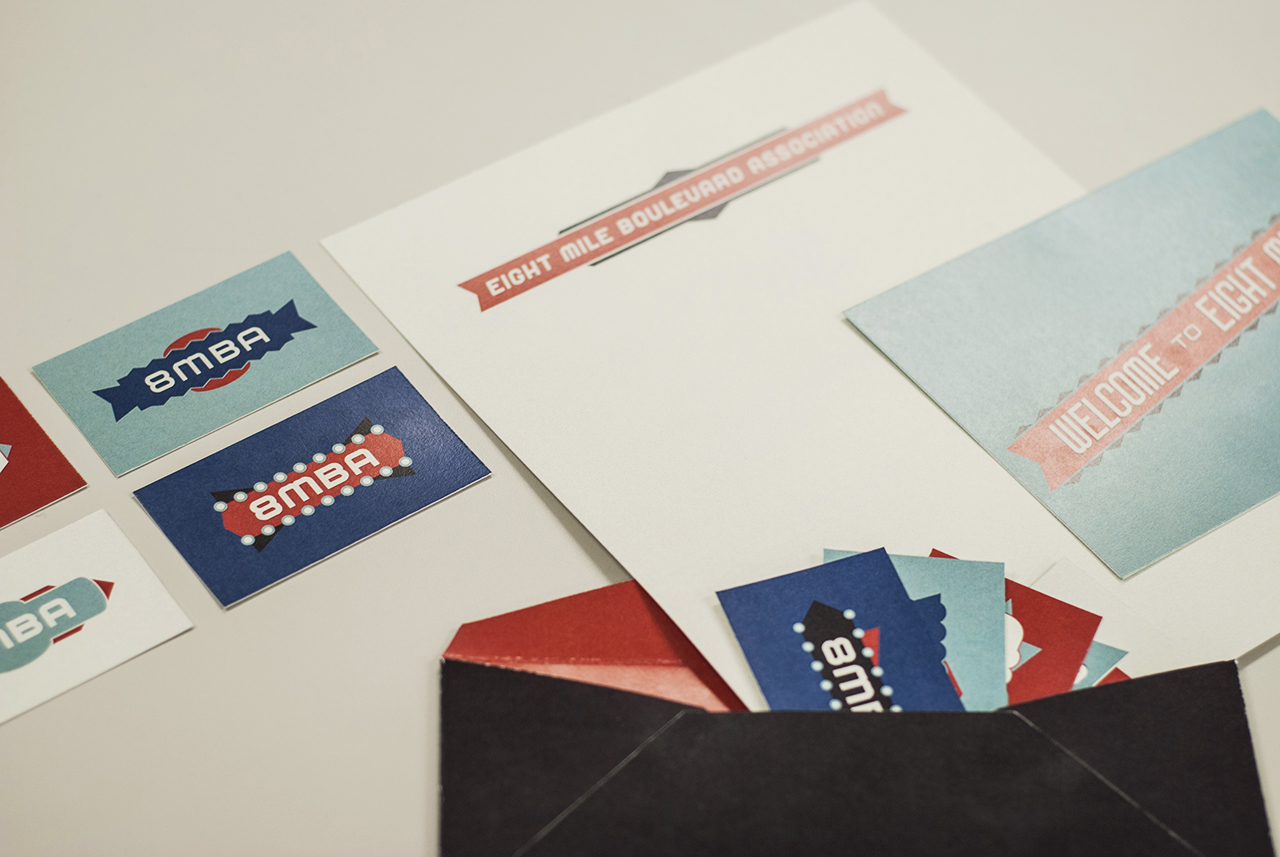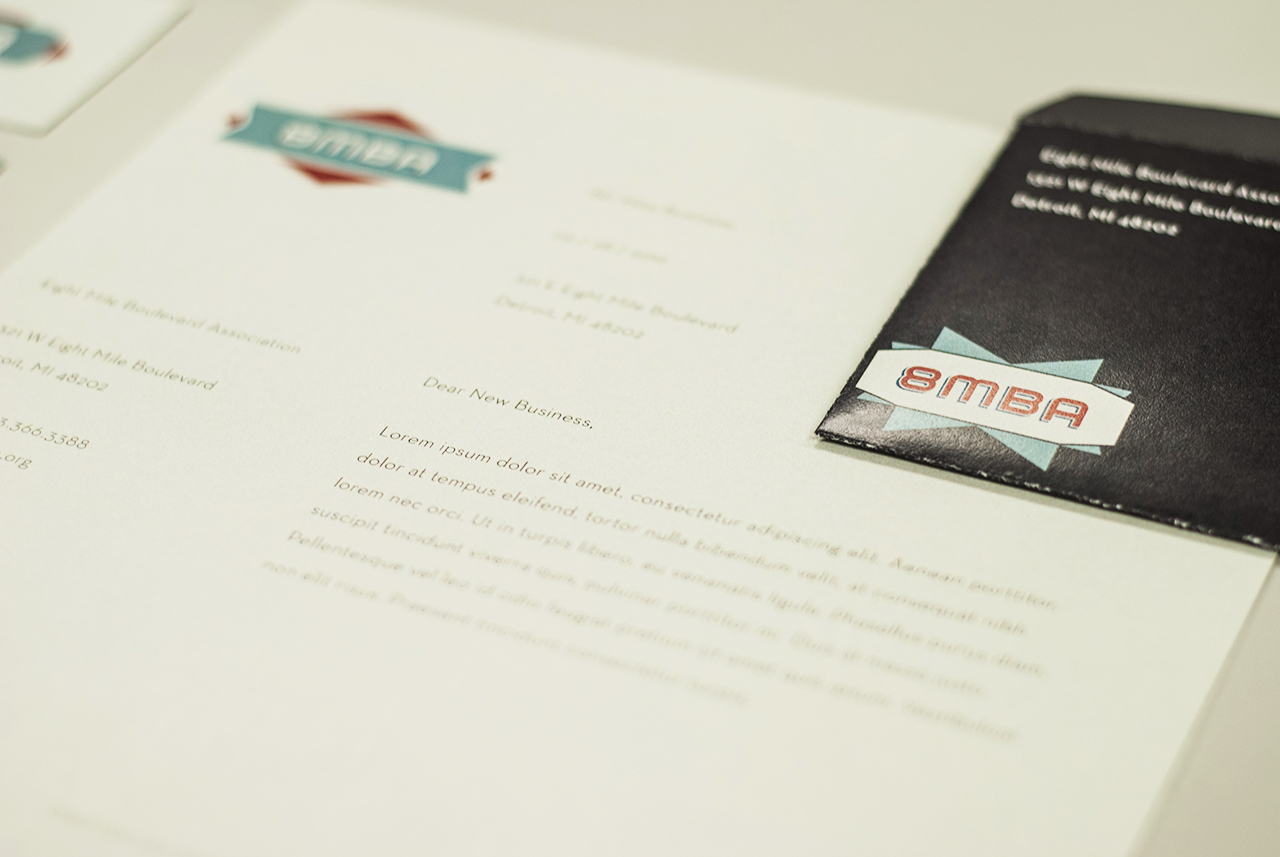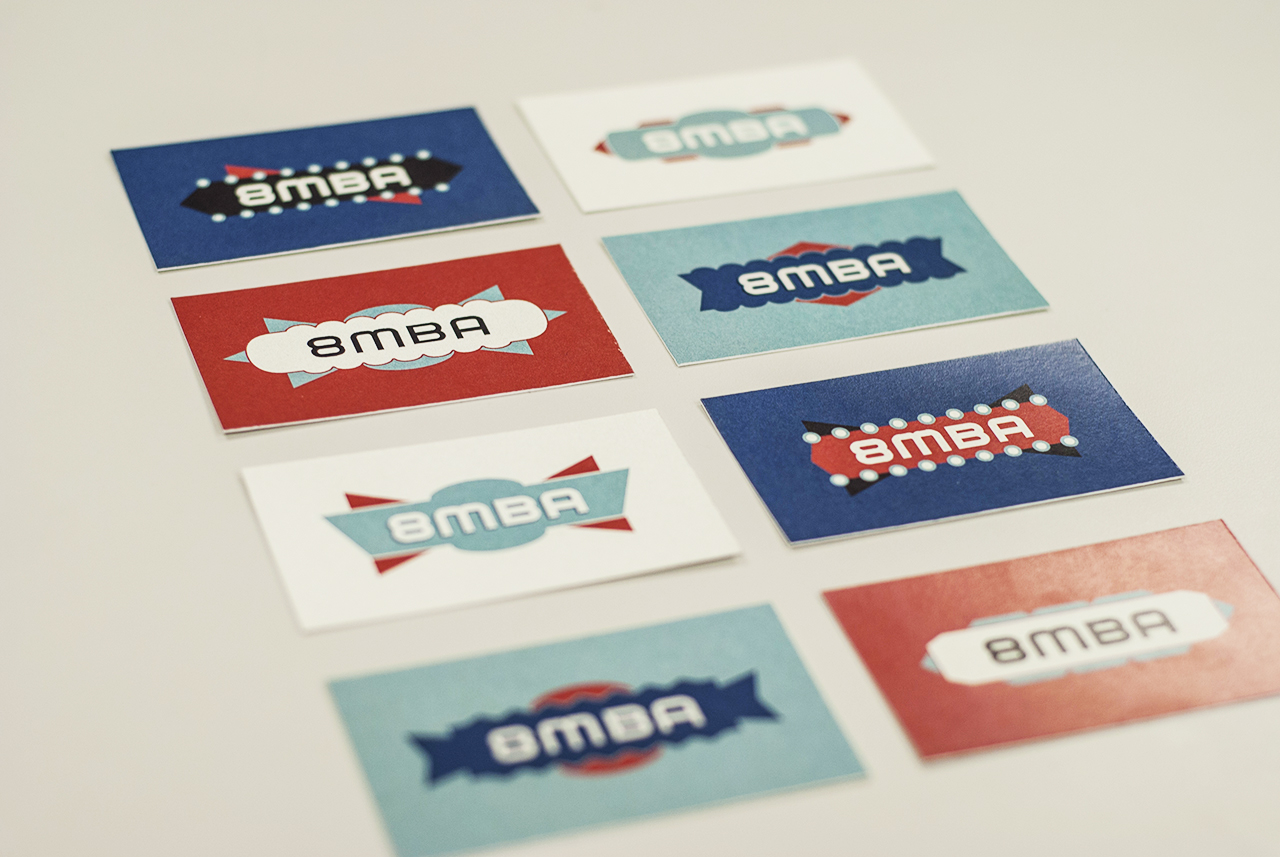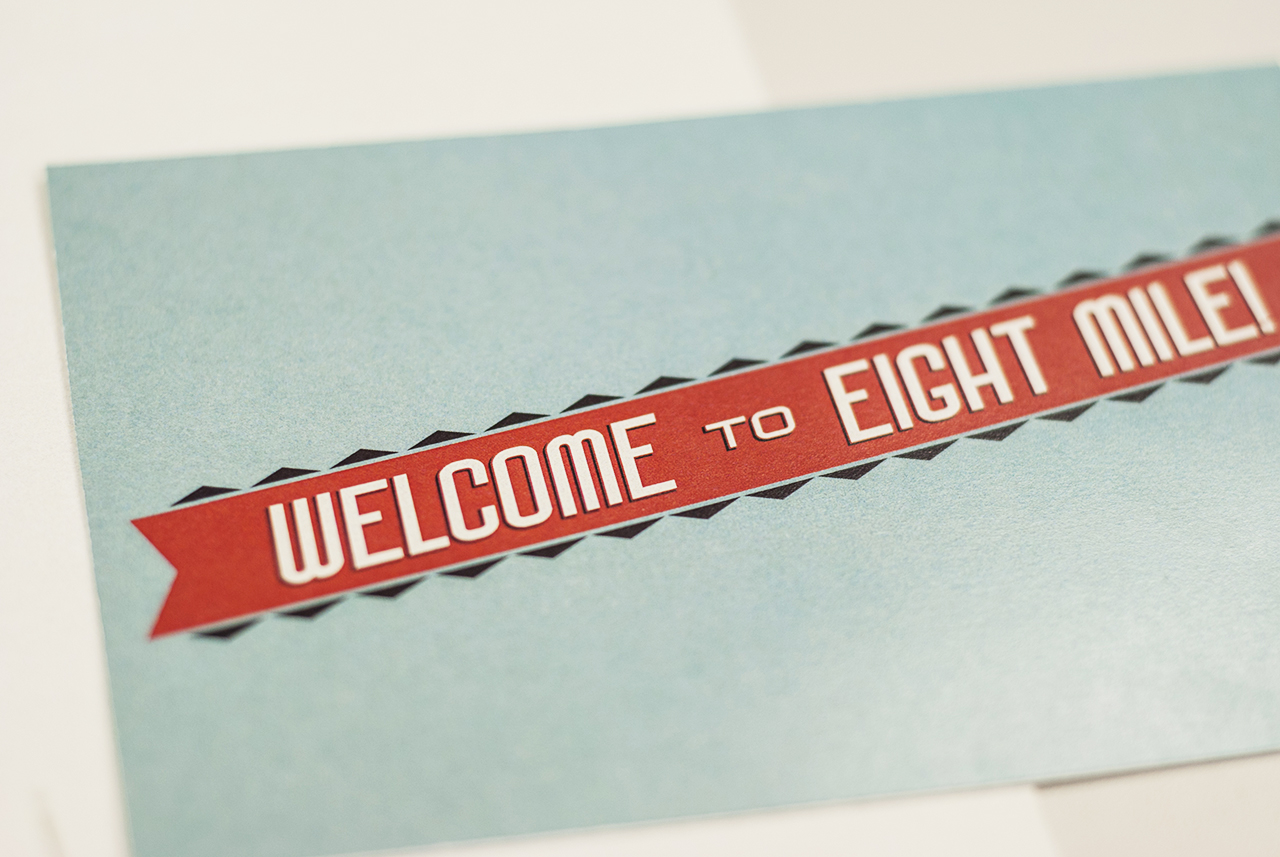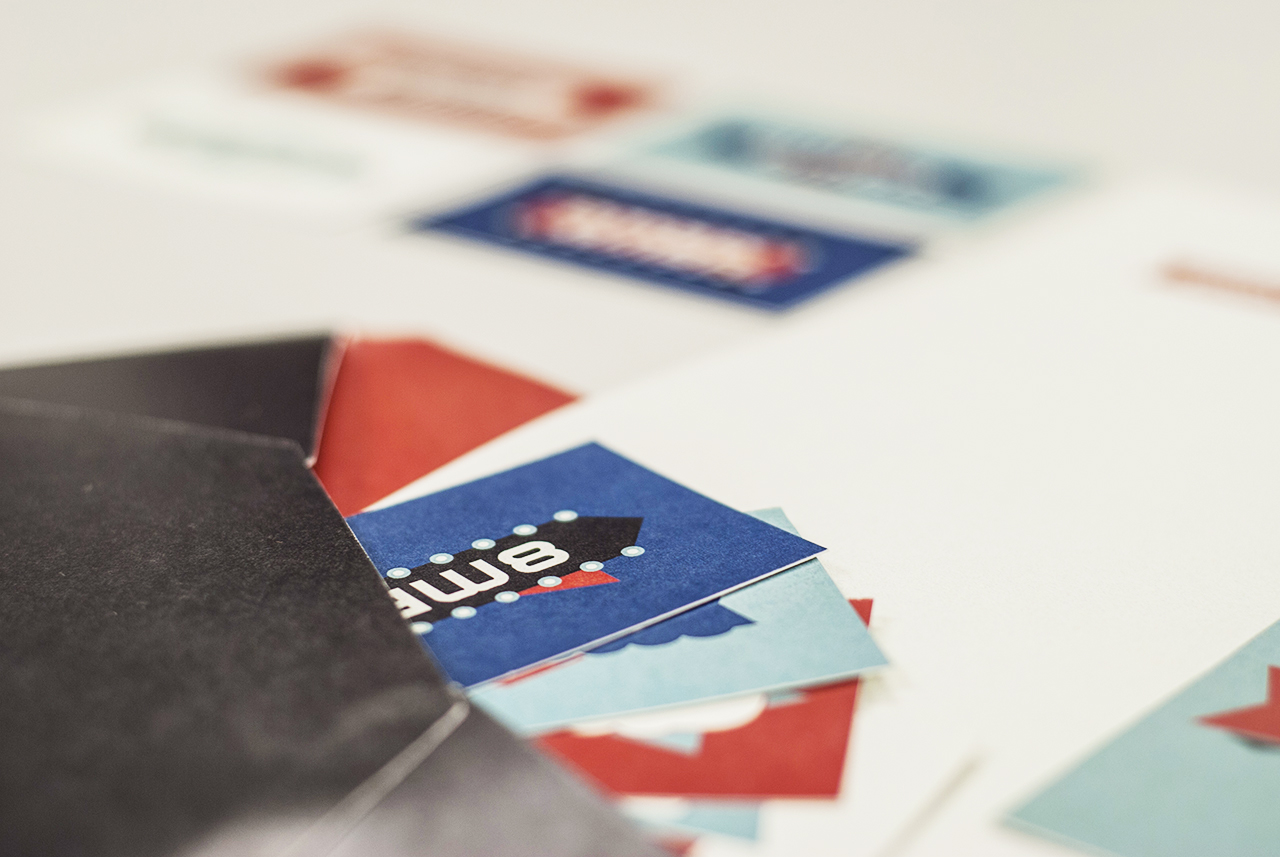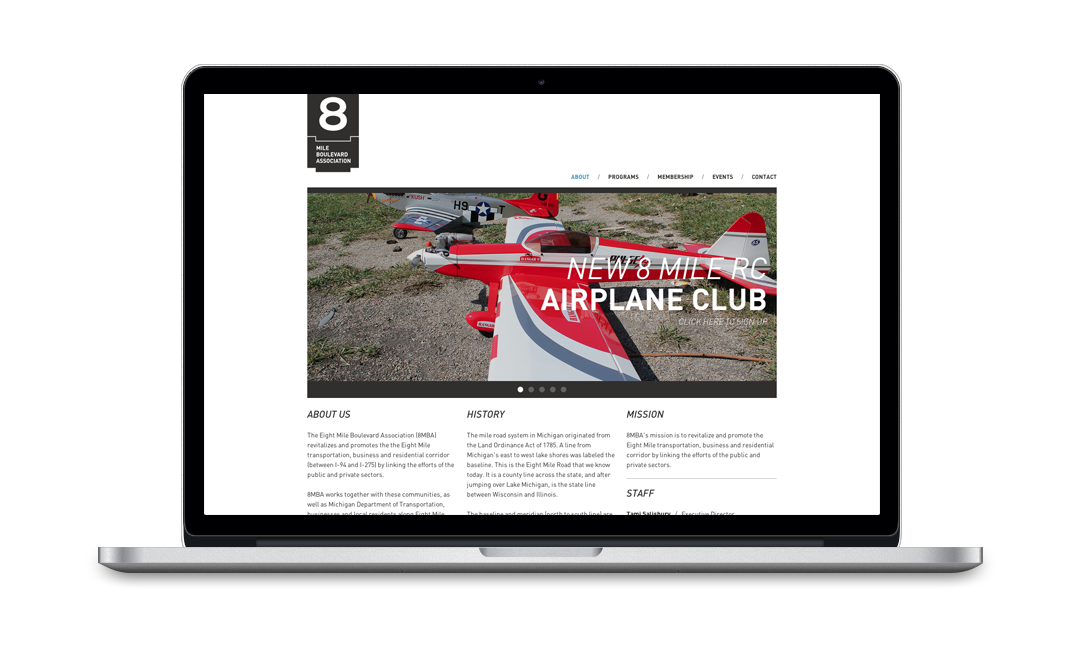 Although my team's design was not chosen by the client, the winning team asked if I would be willing to do the web design/development for Eight Mile. The site I developed was based off of one mock up and included a custom content management system built from scratch that allows Eight Mile to quickly and easily update information.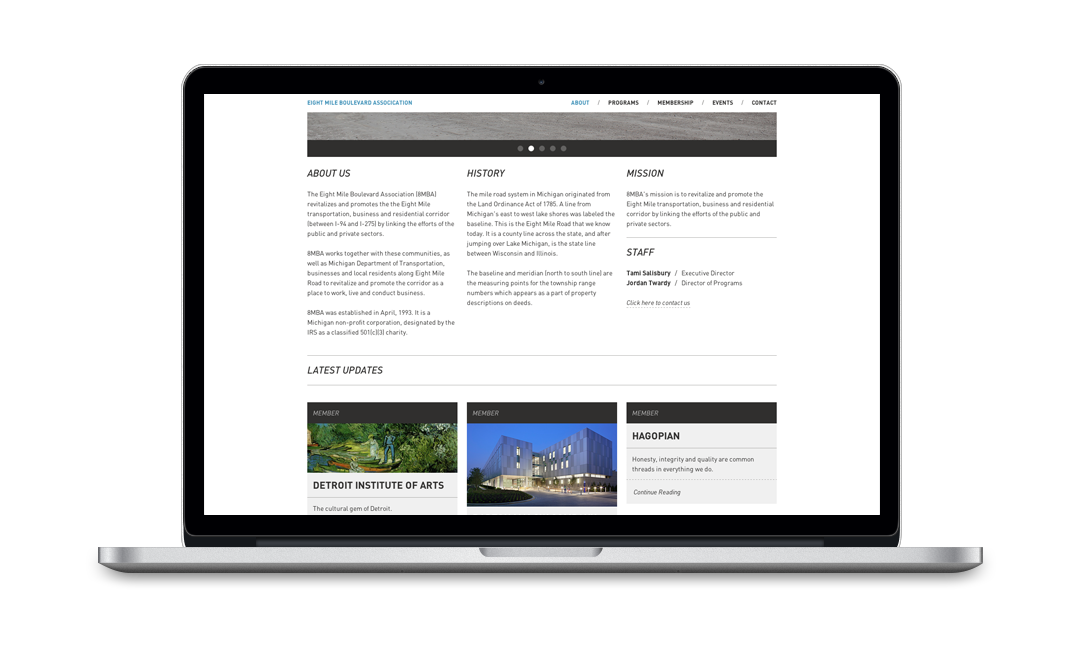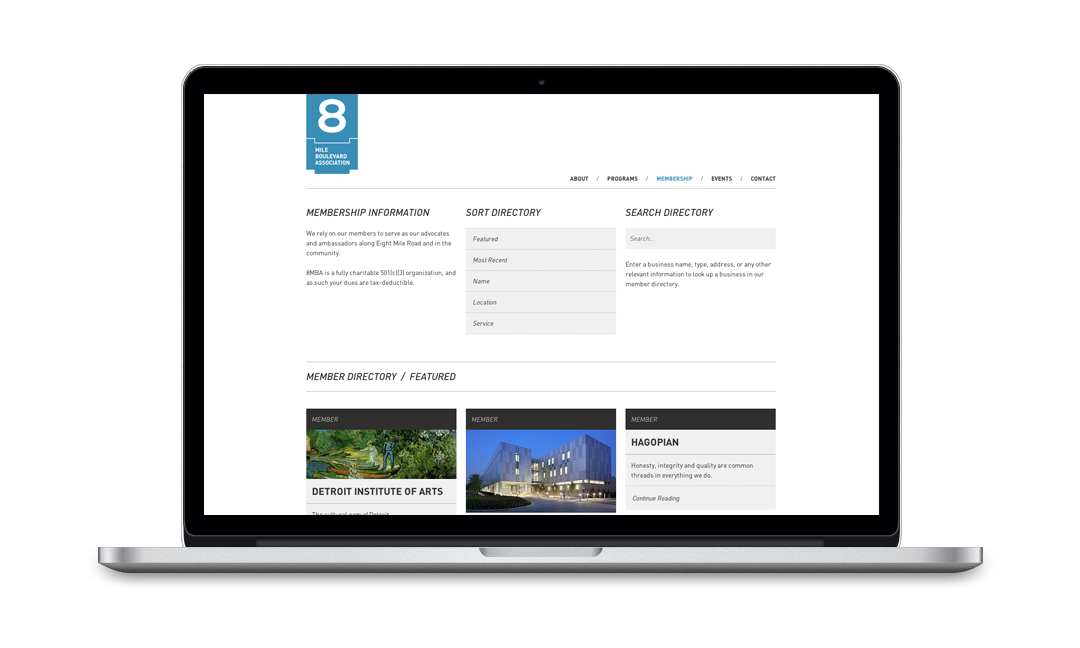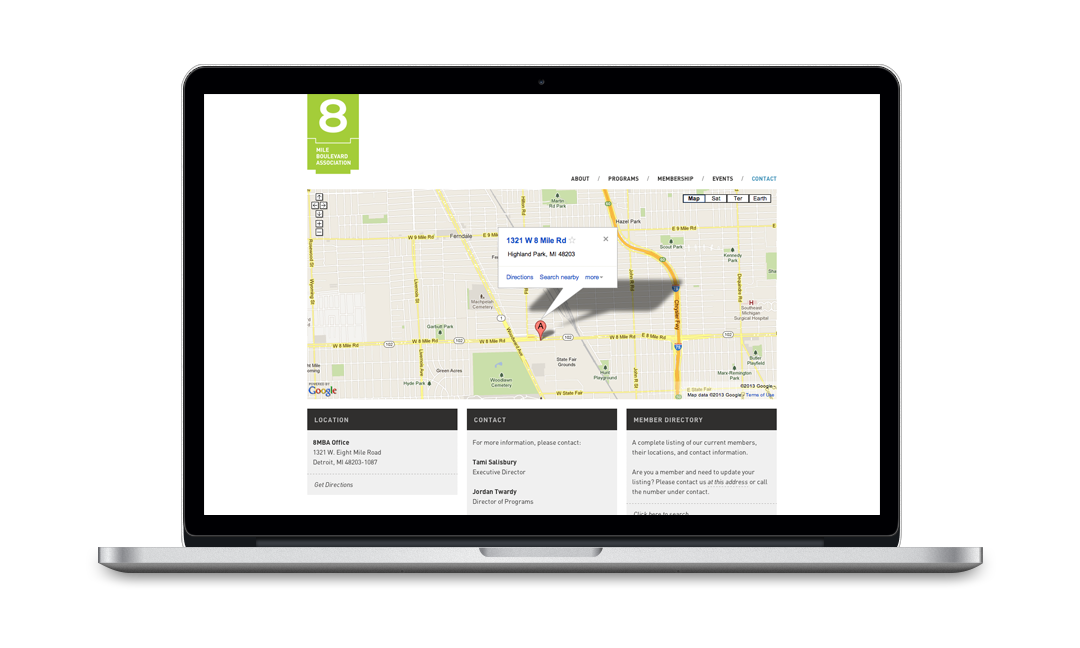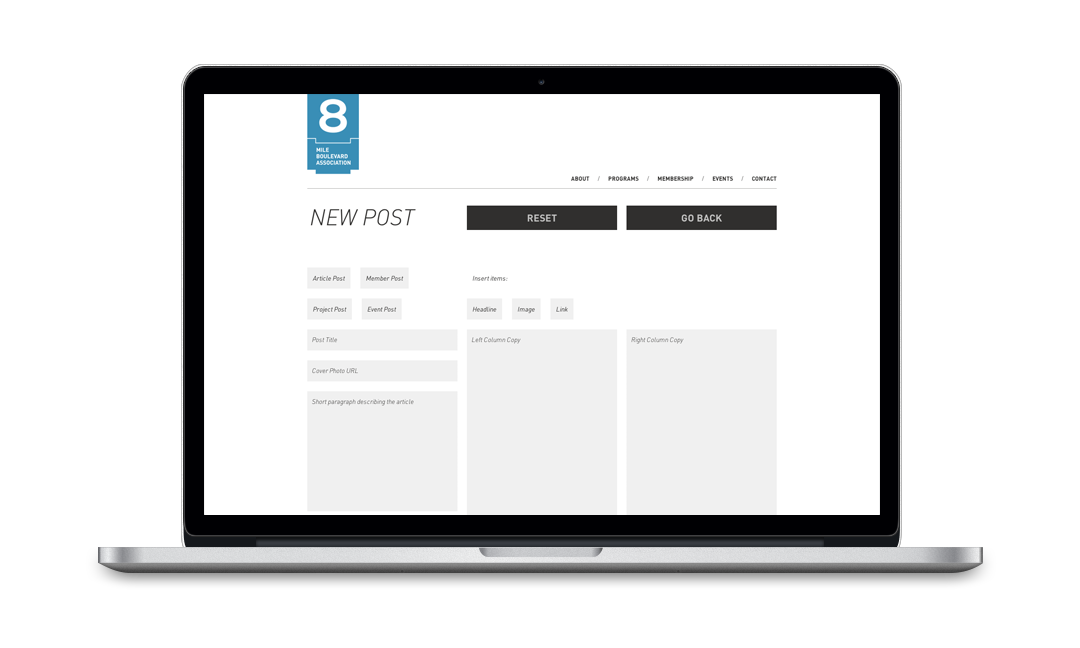 If/Then
Date: 11 / 14 / 2013
Medium: Digital / Print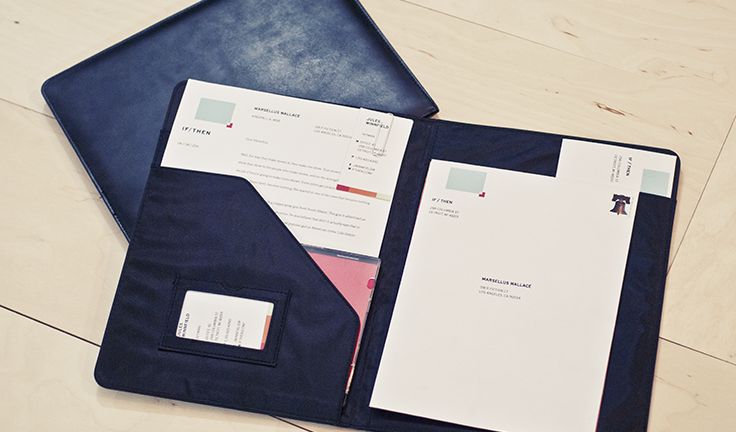 This is a pair of identity systems (symbolic/typographic) I developed for a fictional think tank located in Detroit, Michigan called If/Then for the first half of my Intermediate Visual Communication class at the College for Creative Studies. I used a system built on variables to determine visual output in both systems. The black and white iteration is the typographic version and the colorful system is the symbolic version.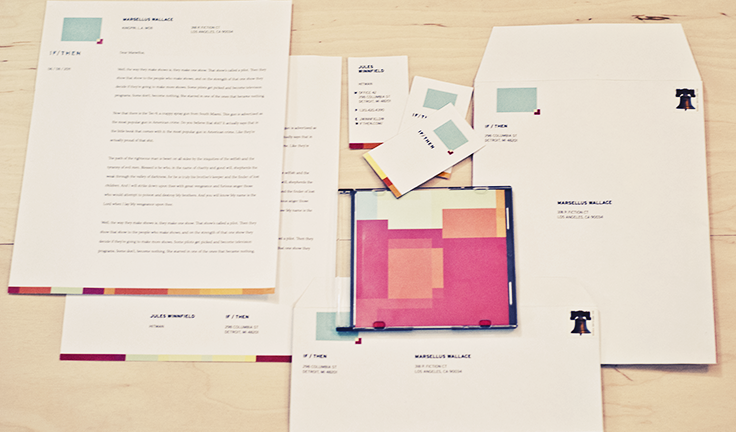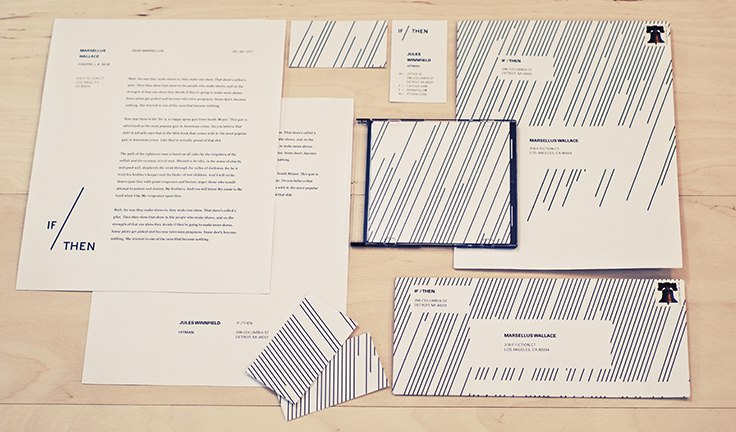 The most obvious approach to this identity was through code. The way If / Then works could be matched with a conditional identity. Different types of clients could be represented by color or graphic elements. Using the concept of code and scripting, I would build an identity that was based around the powers of two; 2, 4, 8, 16, 32, ect. These numbers could be used for font sizes, grid proportions, color values, or any other number of elements to make the design modular and easy to manipulate.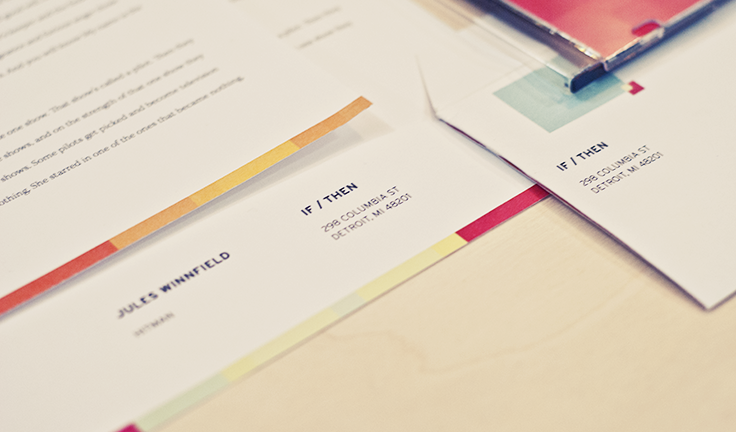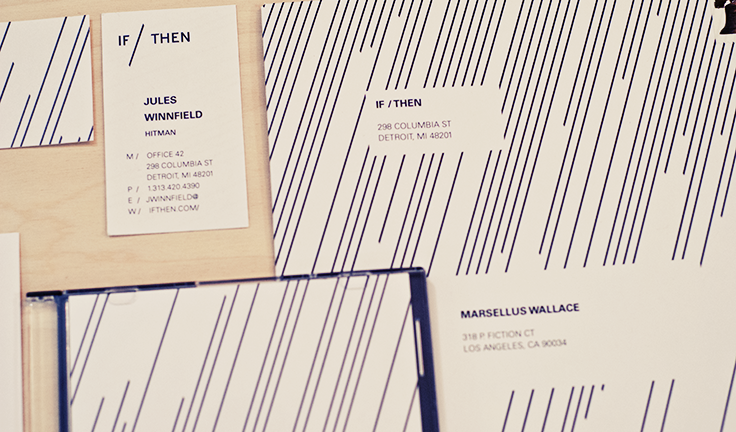 Bandwidth Usage
Date: 10 / 06 / 2012
Medium: Digital / Print / Information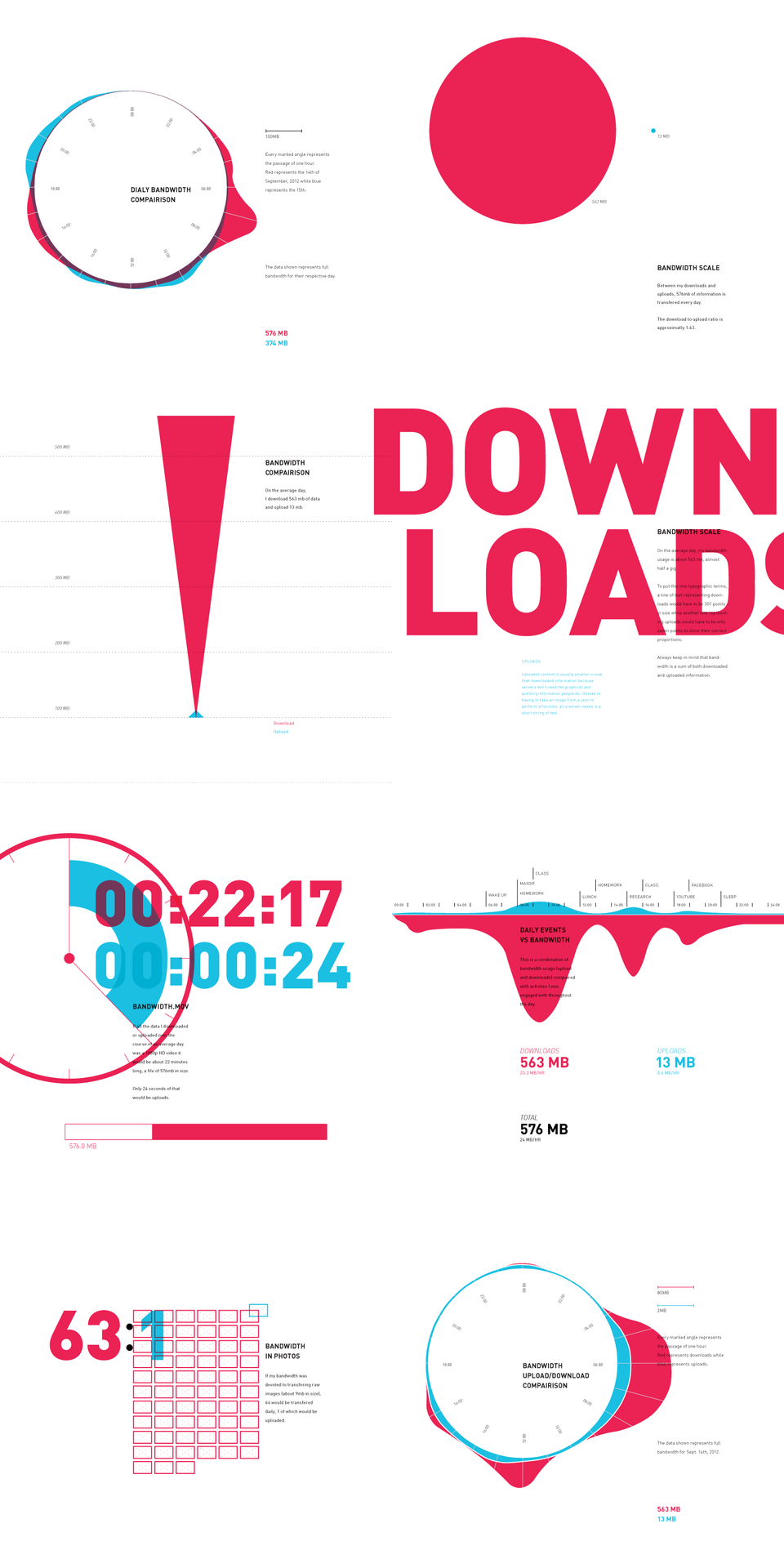 I tracked my data consumption through my computer over the course of 3 days and developed infographics to convey that information in the simplest manner possible in 8 graphs. The final piece was printed onto 11x22" transparency.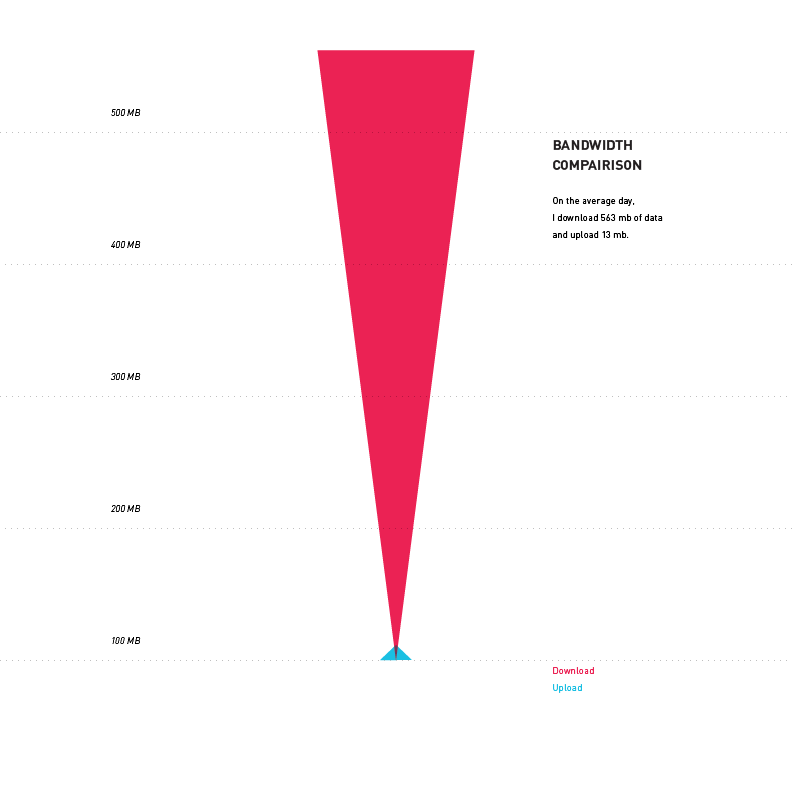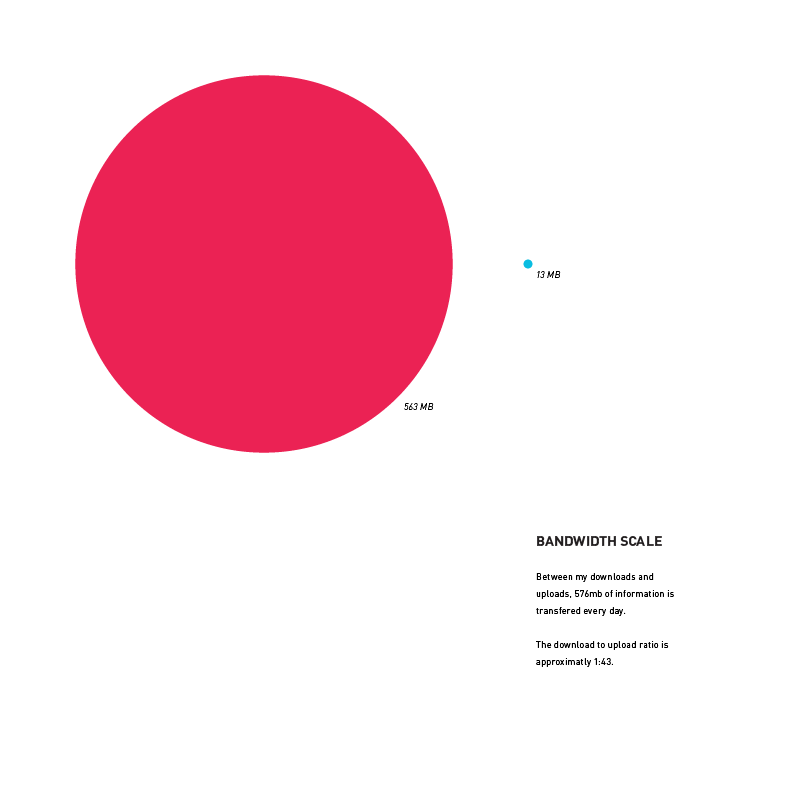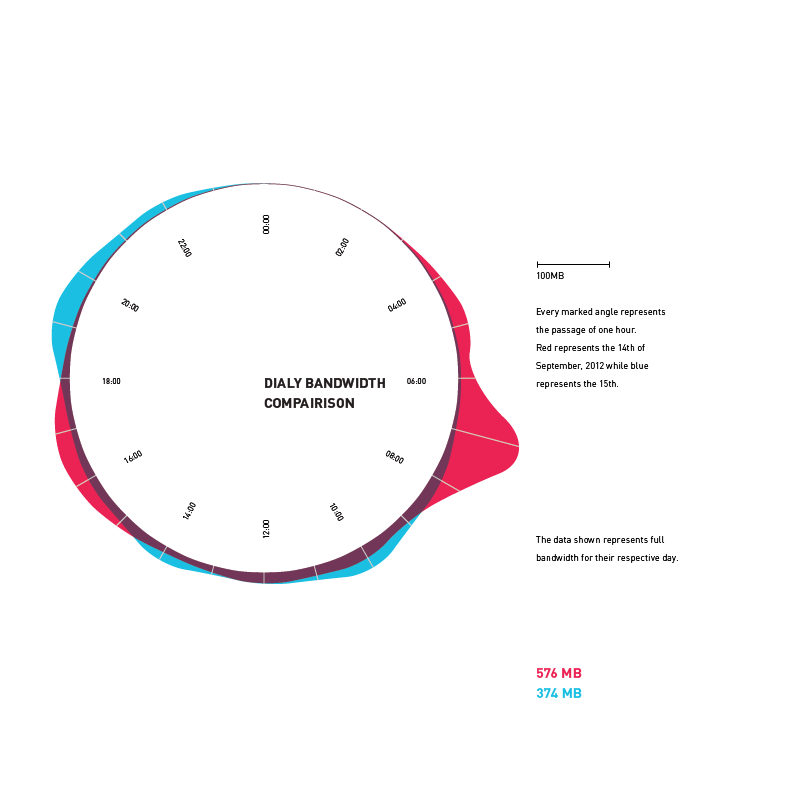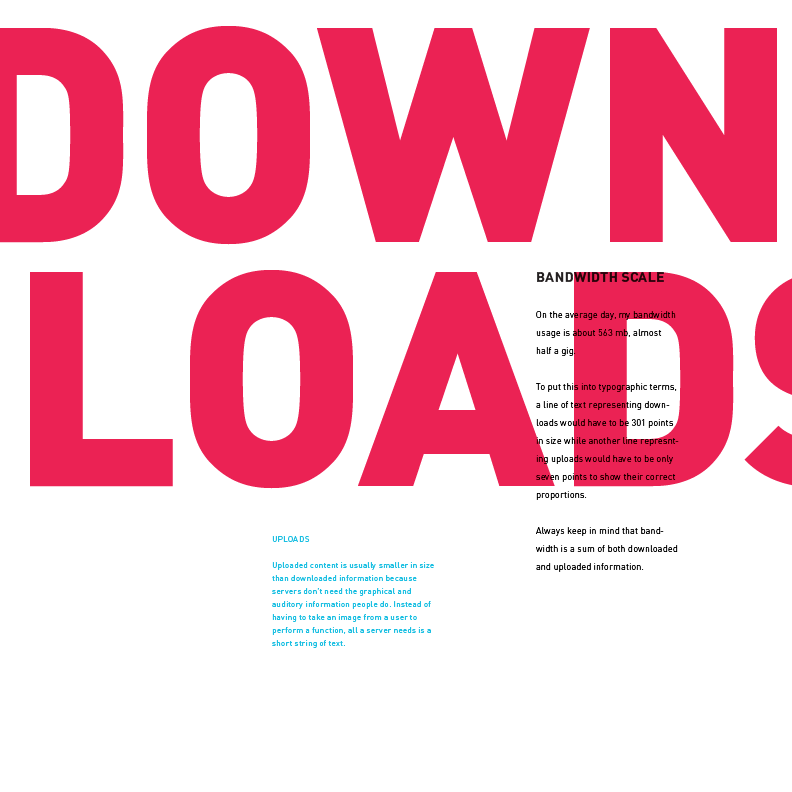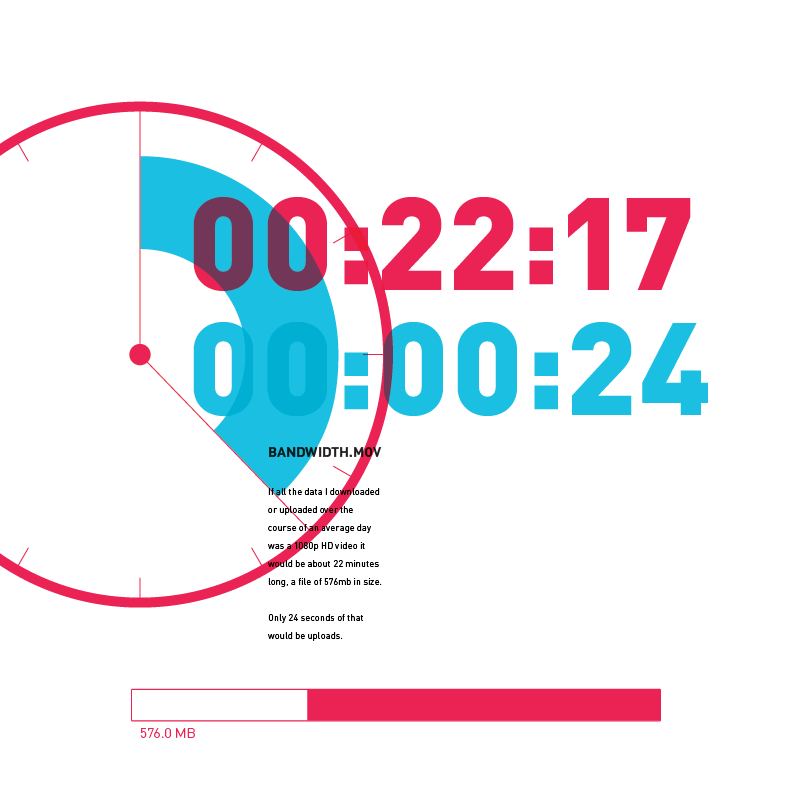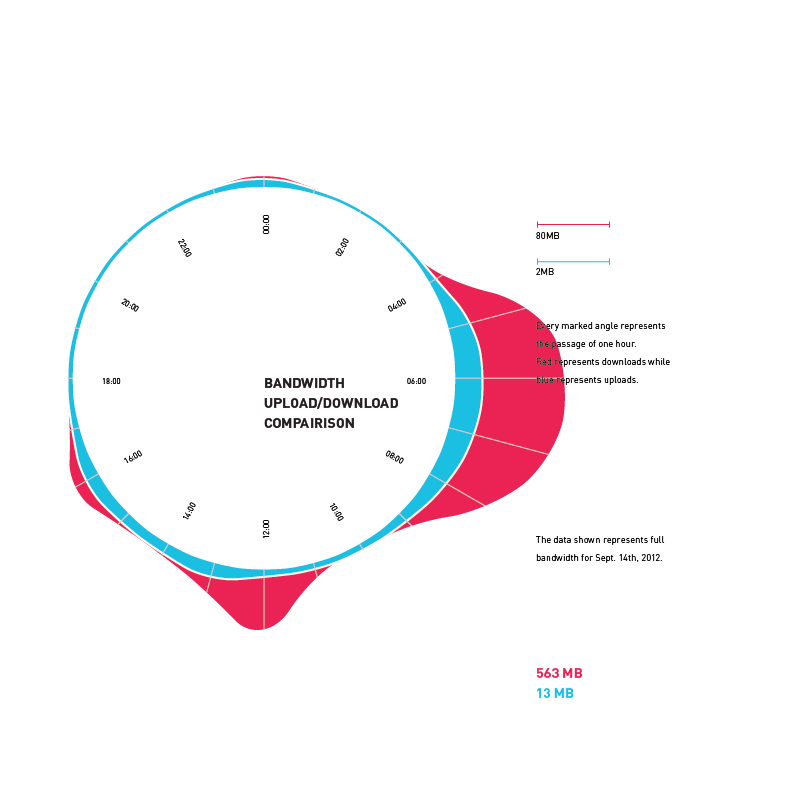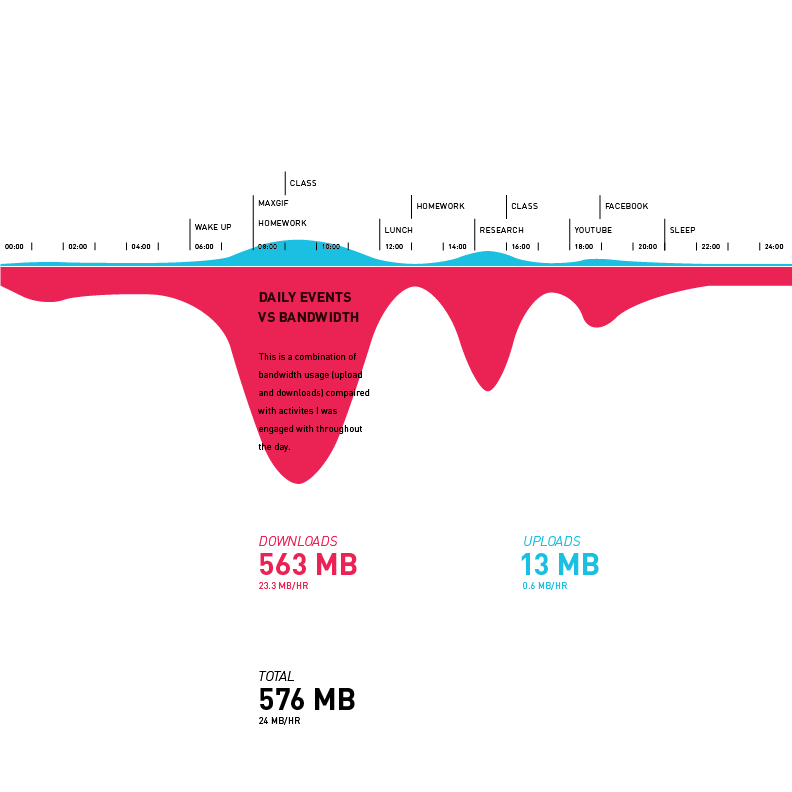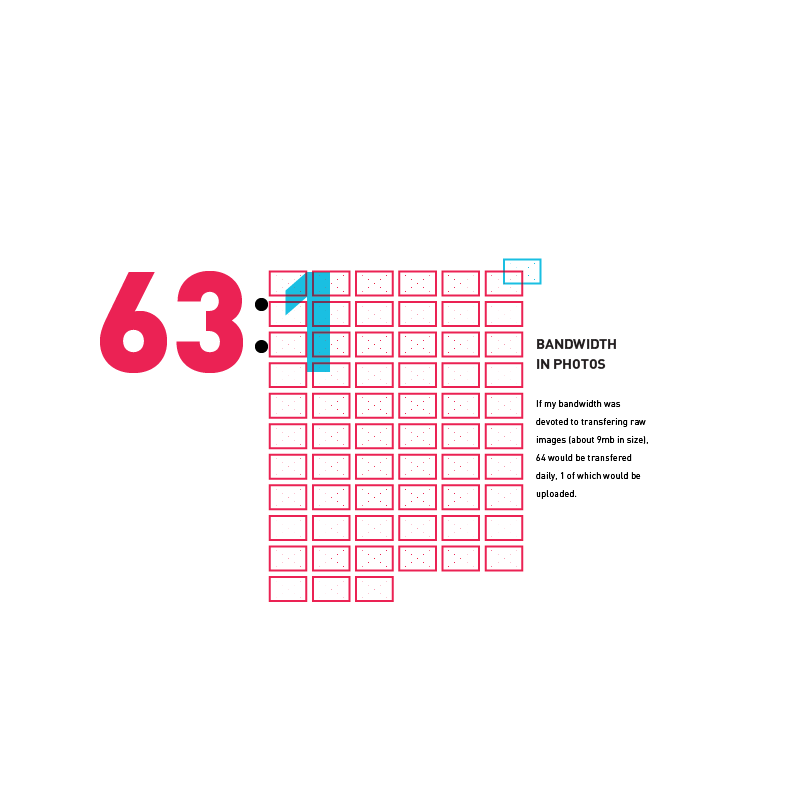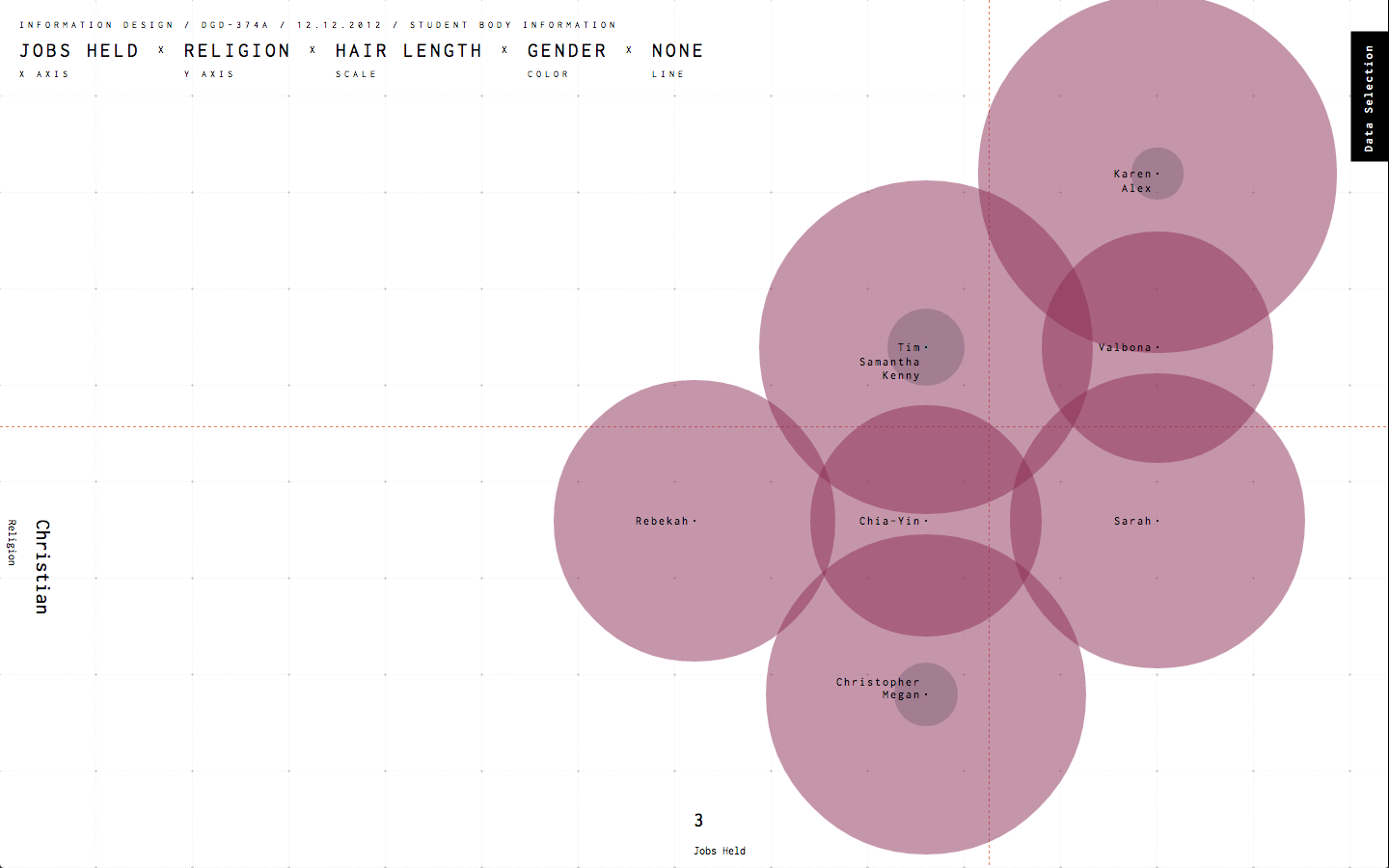 This project's goal was to display 14 points of data about my peers in an information design class. I used a scatter plot to display all of the information and allowed the user to select what sets were shown along with a few curated groups. Any key can be pressed to display a new random data set.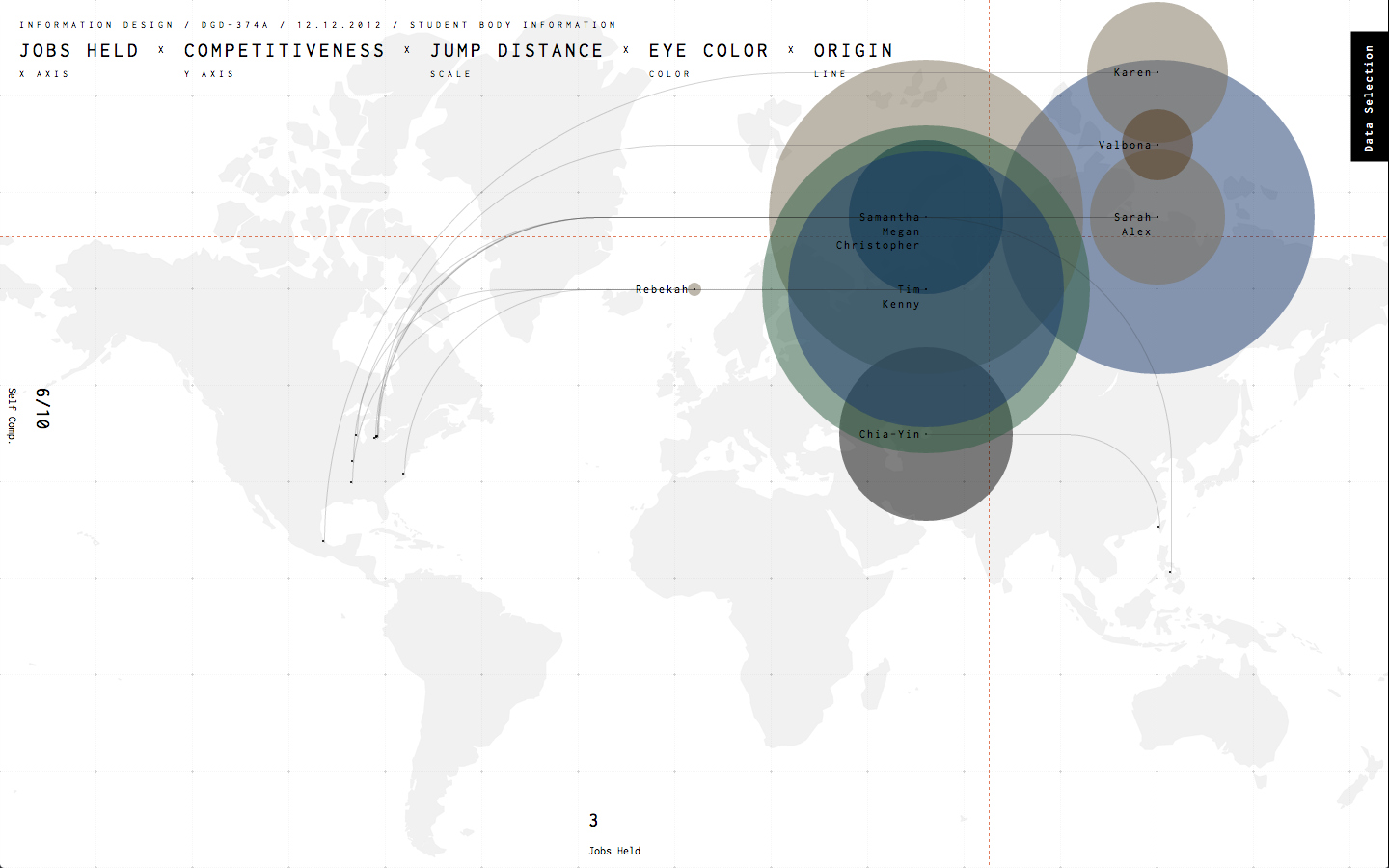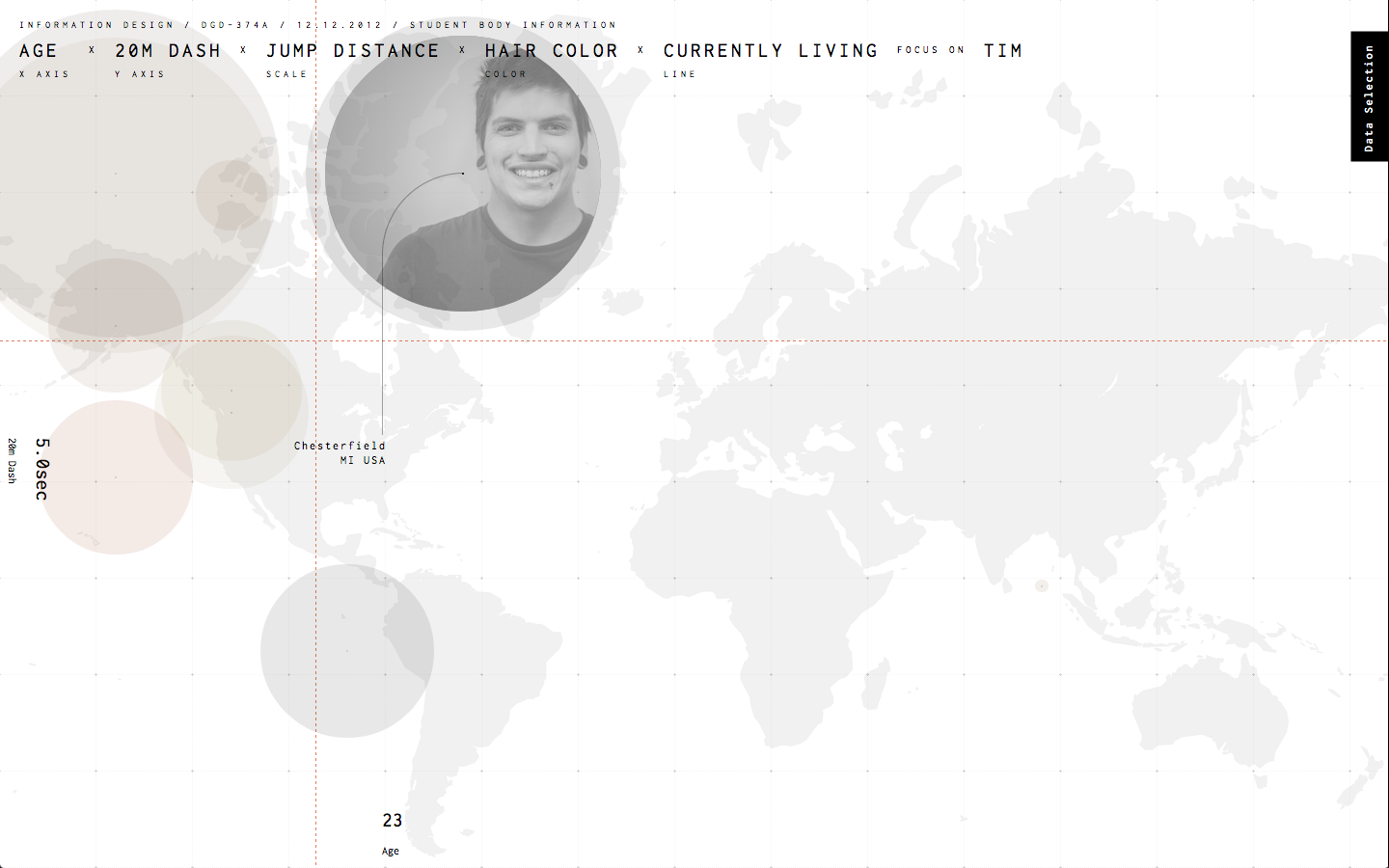 Maple Syrup Festival
Date: 11 / 24 / 2011
Medium: Digital / Branding
The Lansing Maple Syrup Festival is an annual event that aims to educate and entertain its attendees by demonstrating traditional methods of maple syrup collection over the course of two days, Friday and Saturday. I was tasked in my Intermediate Visual Communication class with developing a poster, website layout, stickers, and app that could be used to promote the festival to my target audience of 25-35 year old professionals.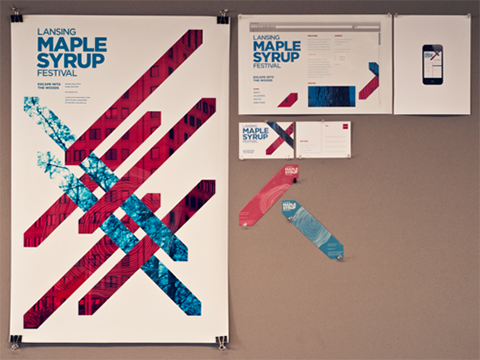 Ren Cen
Date: 3 / 22 / 2011
Medium: Digital / Illustration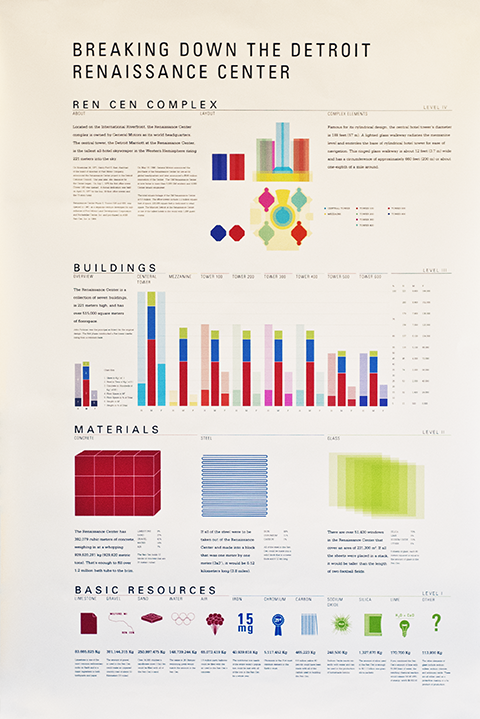 Breaking Down the Detroit Renaissance Center was a three month long research project. We were assigned to research everything about a particular area of Detroit (mine being the Ren Cen): its traffic flow, sounds, temperature, activity levels, smells; any piece of data could have proven valuable later on. After several revision and organization stages, we chose a particular part of our area to focus on. I highlighted the physical composition of the Renaissance Center compound. My information begins at the bottom of the poster and builds up to the top, starting with the most basic chemical compositions and ending with an overview of the layout of the Ren Cen compound.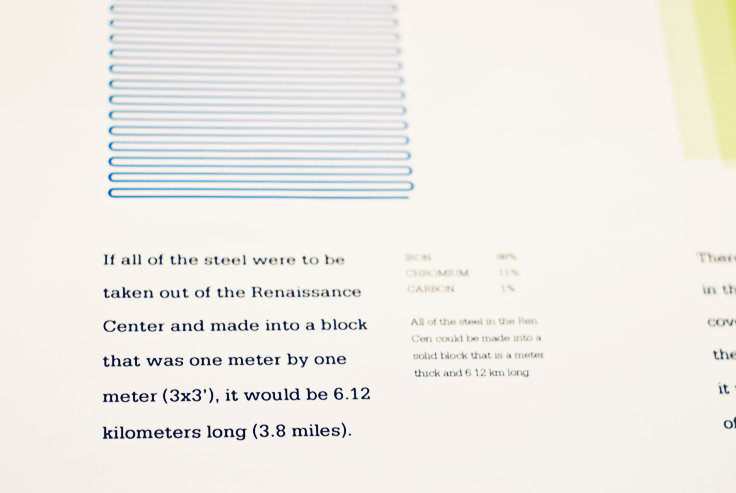 Organizing my data this way allowed me to make my composition's structure to match accordingly. I used a grid system that was fractalinear in nature, complimenting the way pieces of the Ren Cen built upon each other. The top of the poster concludes with general information regarding the Ren Cen such as its construction dates, surface area, floor space, cost of construction, and building layouts. Overall, I feel like this project was successful in visualizing the physical nature of the Detroit Renaissance Center.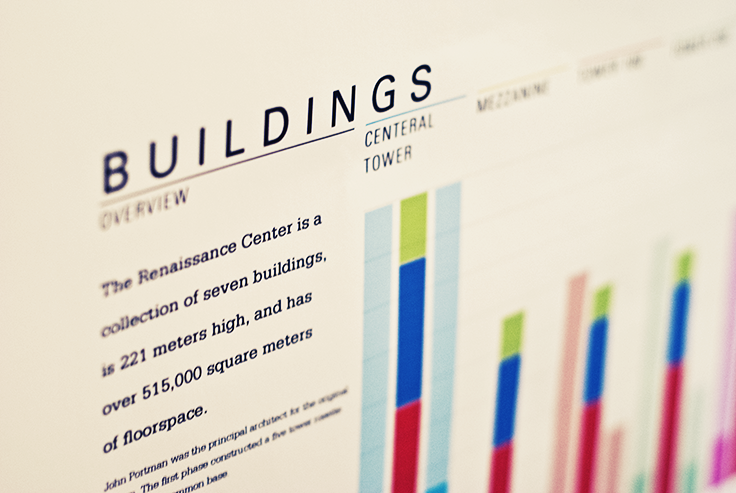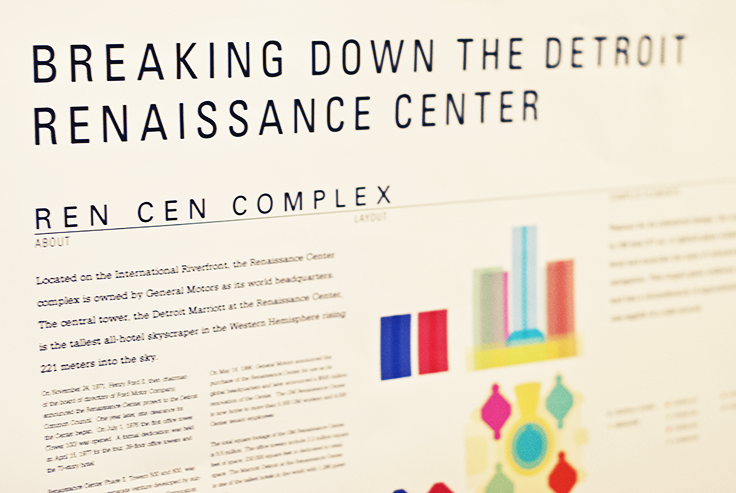 Interaction
Date: 12 / 12 / 2012
Medium: Digital / Interactive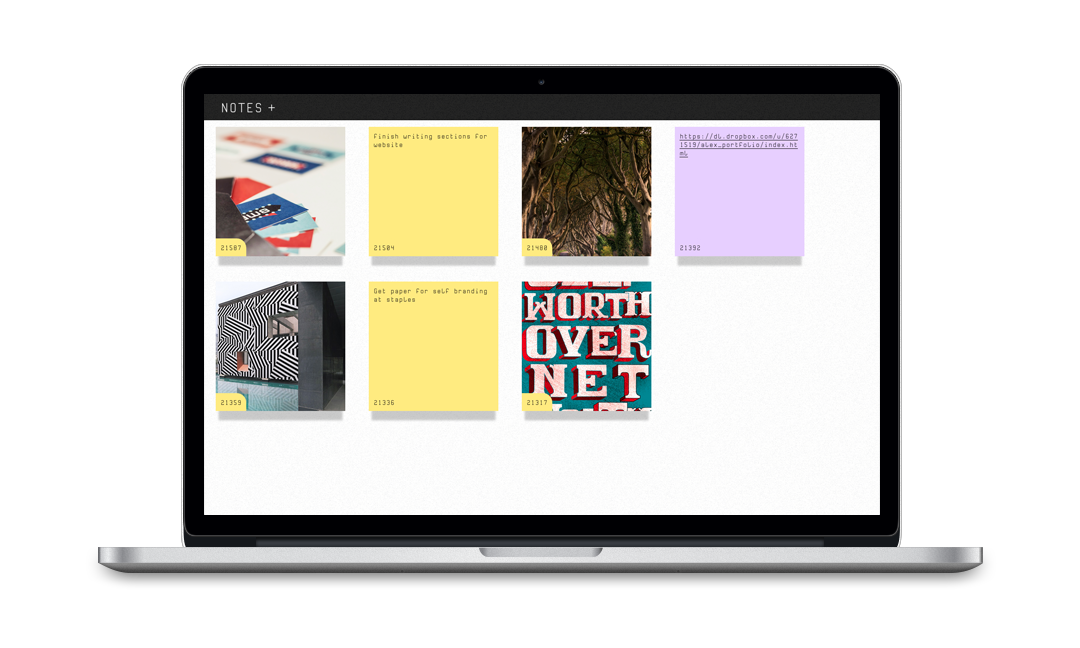 Notes was developed to be a clipboard I could access quickly and easily from anywhere. I can post a dropbox link from my computer and then go to my notes on another computer and access that file. Notes can also be used to quickly and easily share a link to an image, file, or webpage with someone else. It is a service that can be installed on any hosting with MySQL.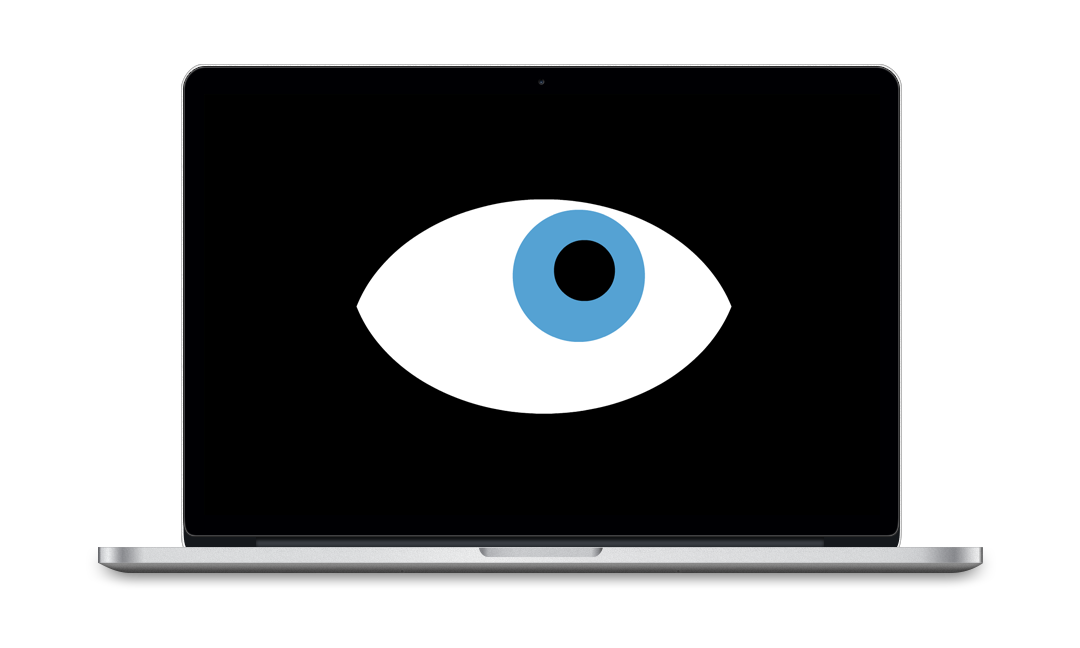 This eye was coded in AS3 to track motion, blink at loud noises, and adjust pupil dilation to changing room brightness. Eye color can be changed with numbers 1-5. Can only run in browsers that run flash and on computers with microphone and webcam input.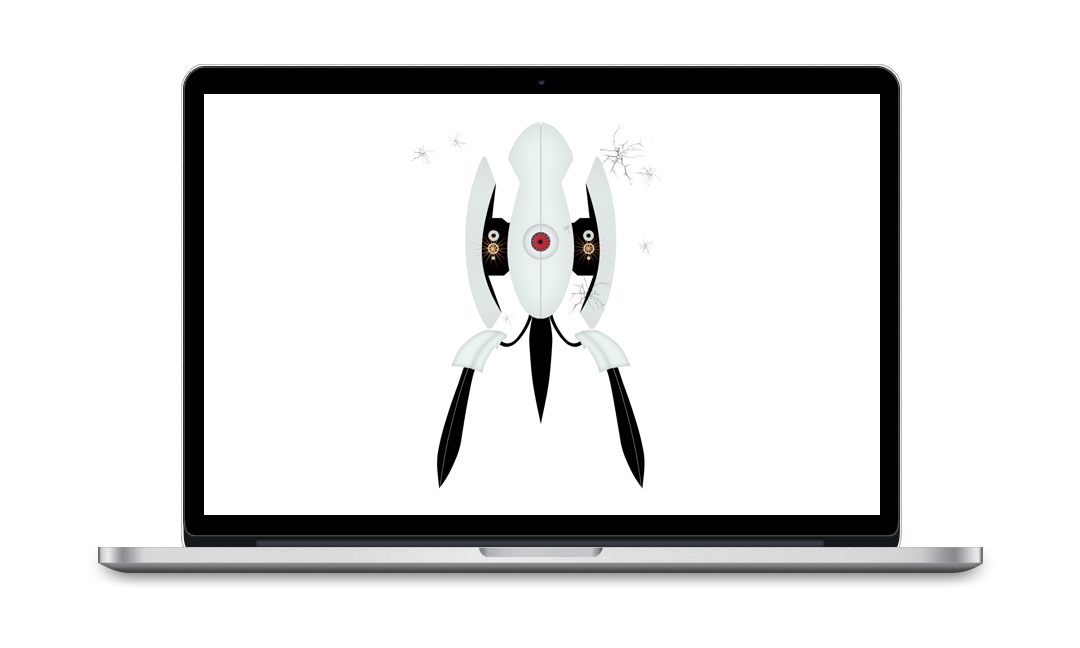 Fan art from the game "Portal," this swf is much the same as the previous eye; it detects motion and animates like a turret in game.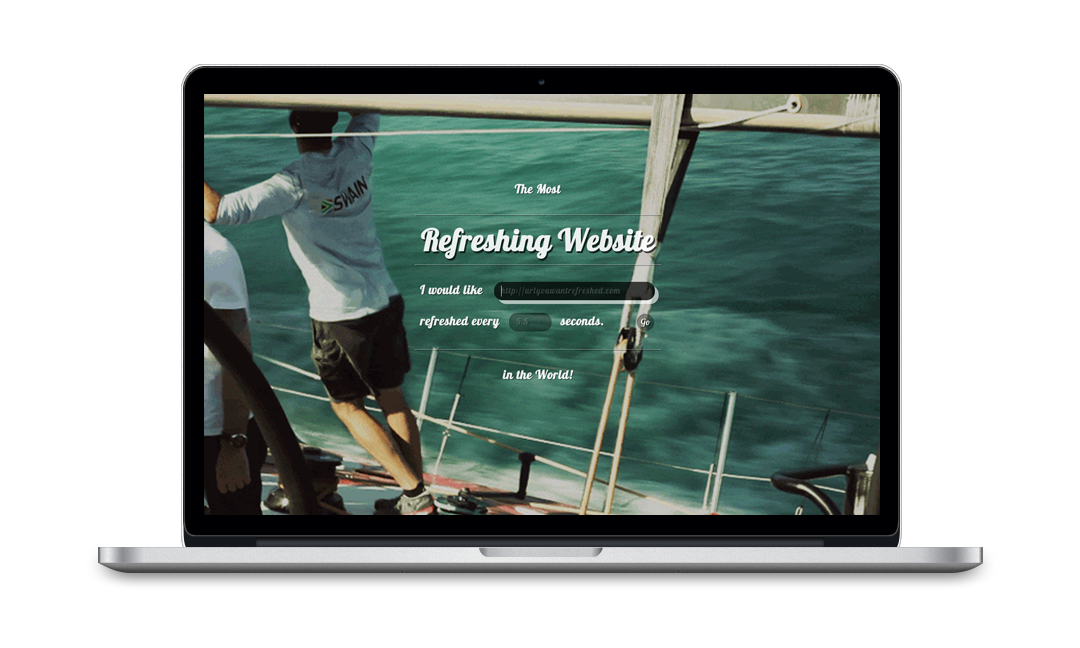 I created this website mostly as an exercise in Javascript and so that I could watch MAXGIF stumble through gifs on its own every few seconds. It also works great on any website with a random page feature such as reddit, or for any site that is updated often.
Typefaces
Medium: Type Design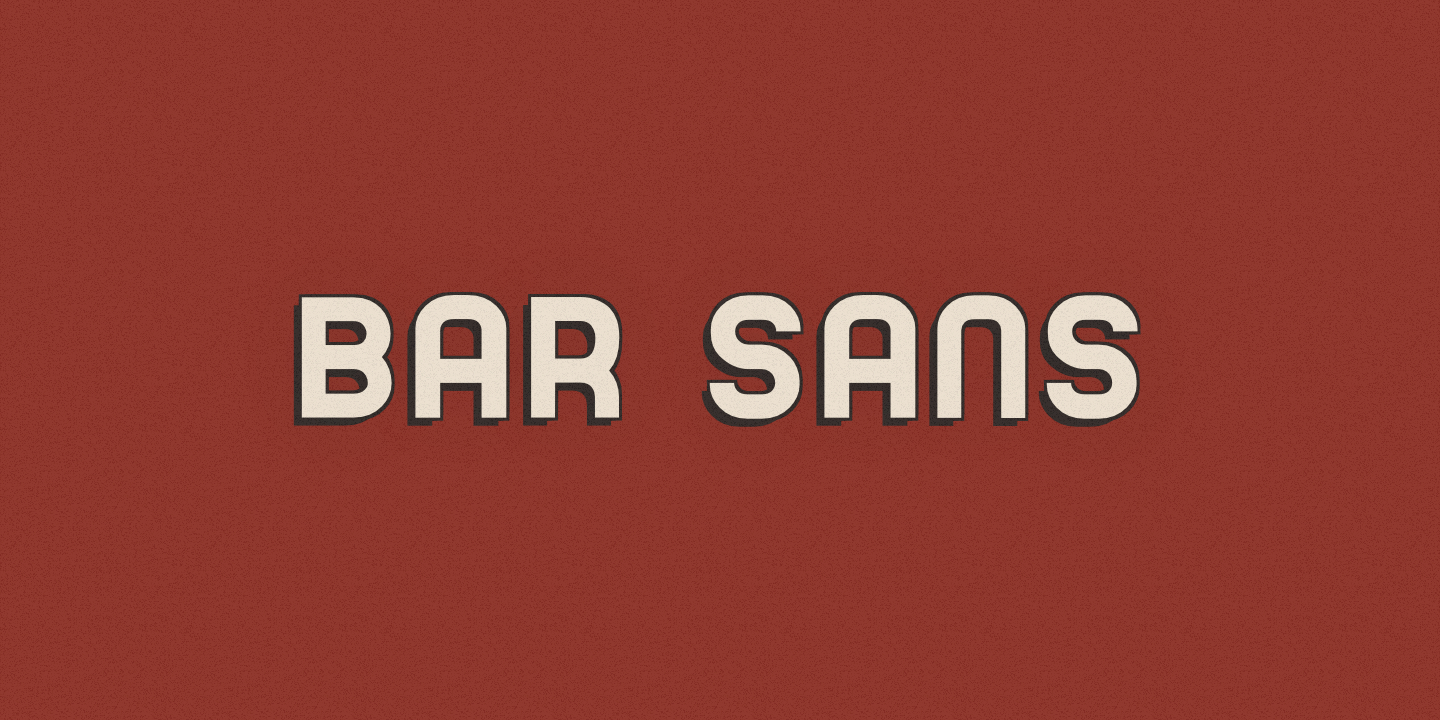 Bar Sans was originally made for my Eight Mile project, complete with two other regular weights and a signage dingbat weight that could create a different sign using glyphs. It was inspired by all of the old hand made signage found along Eight Mile boulevard.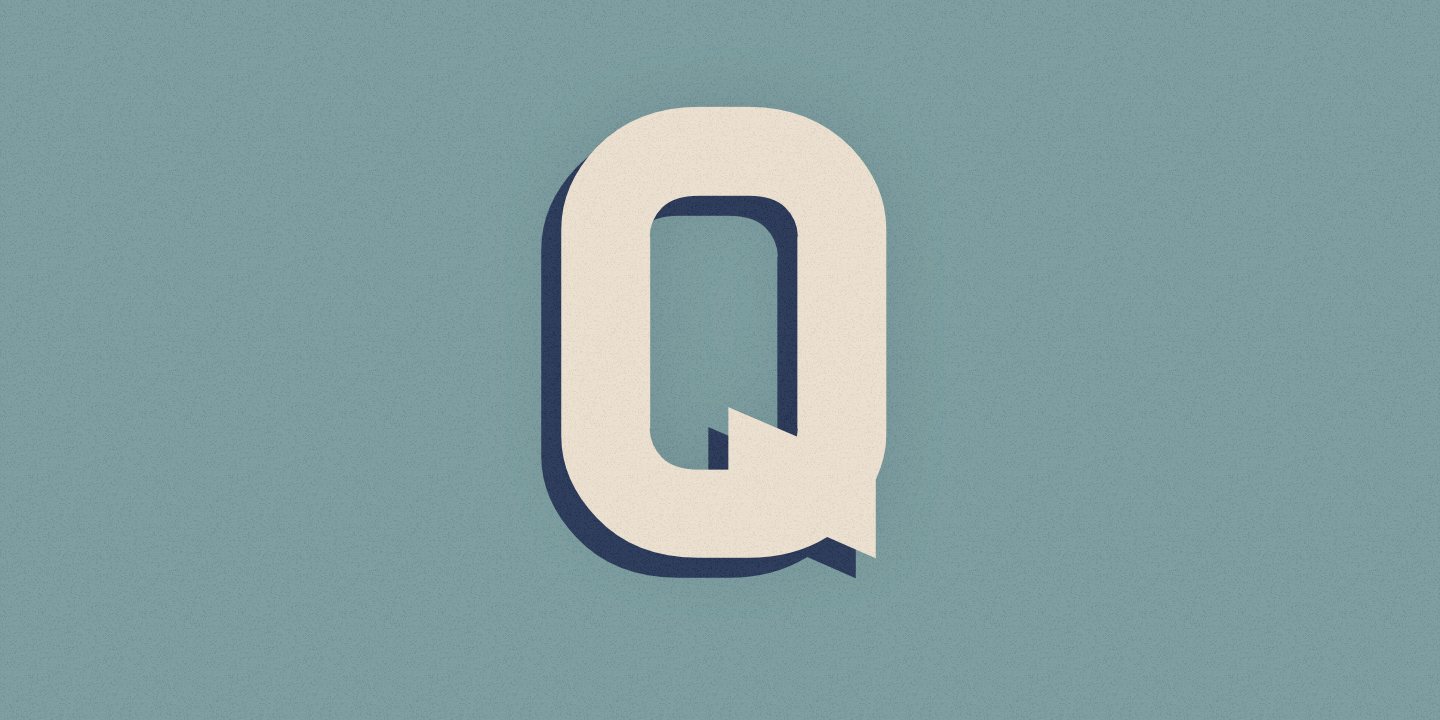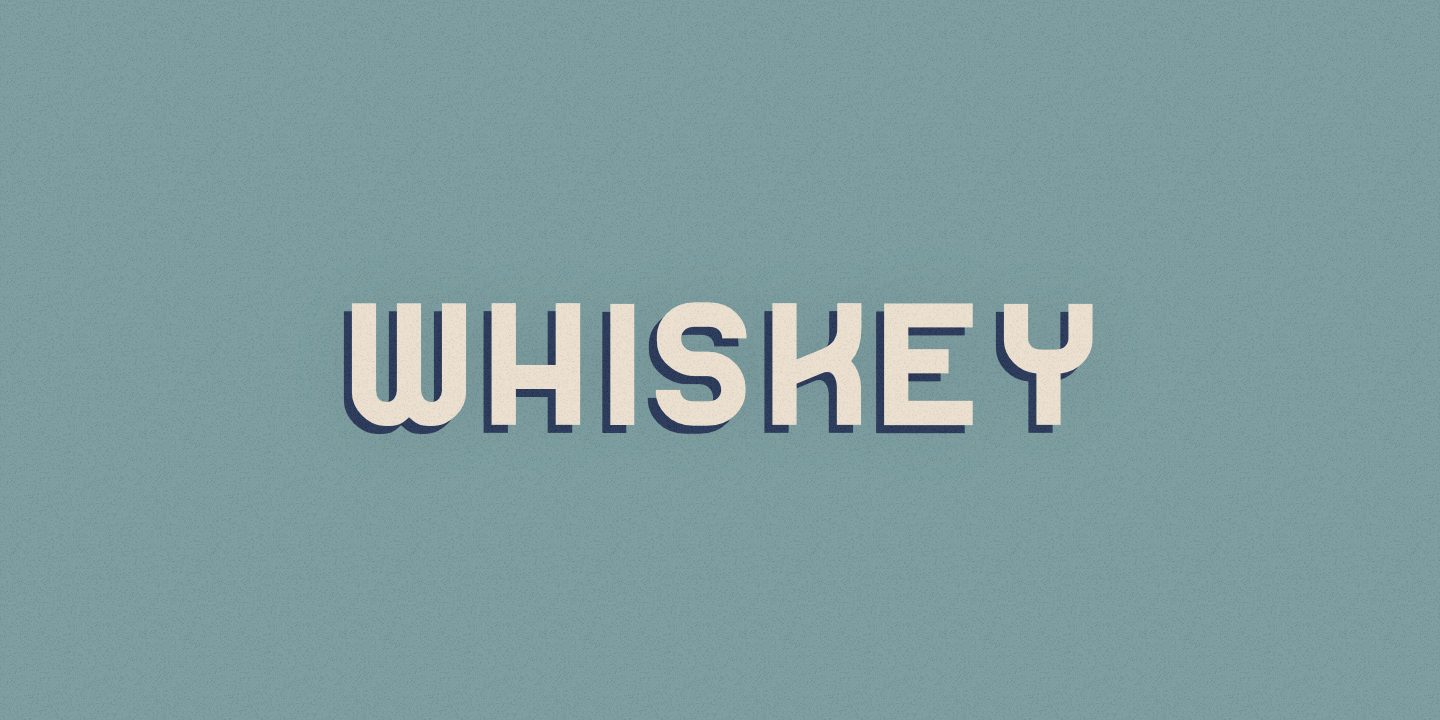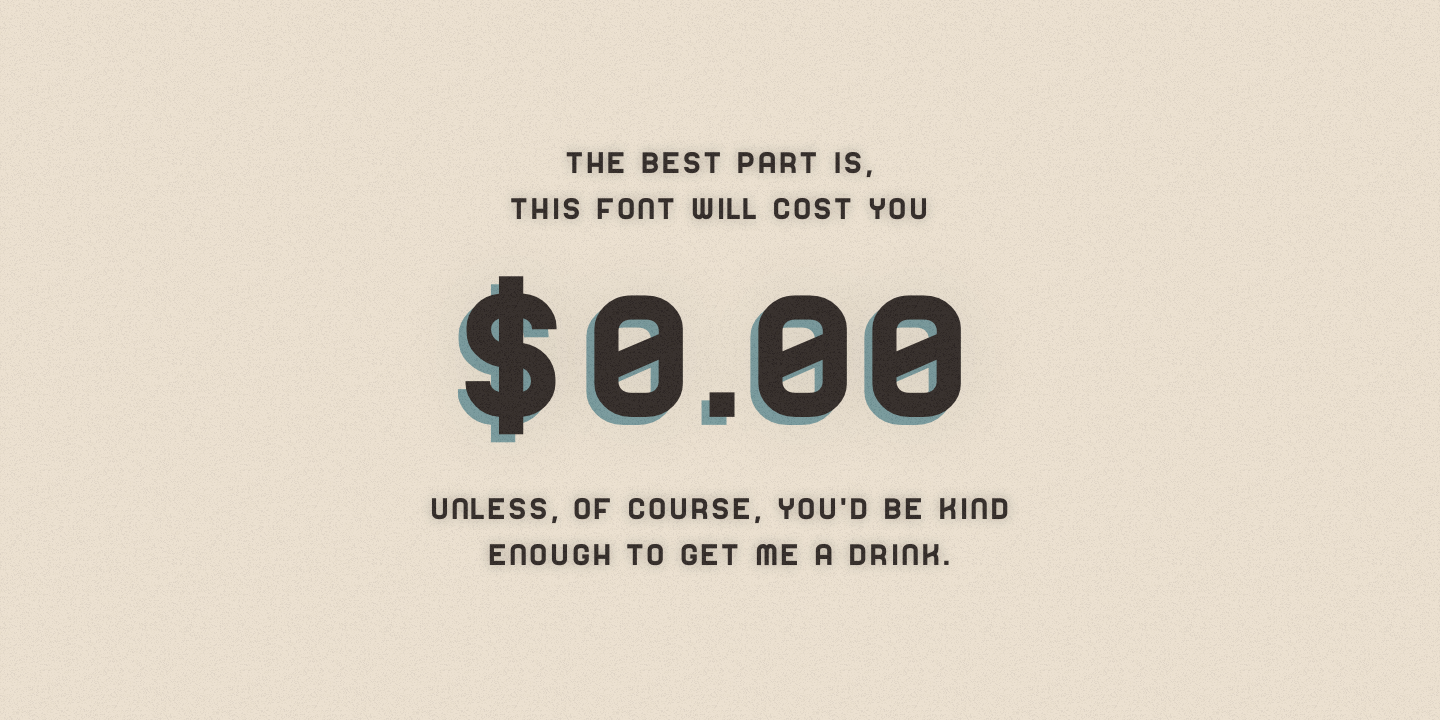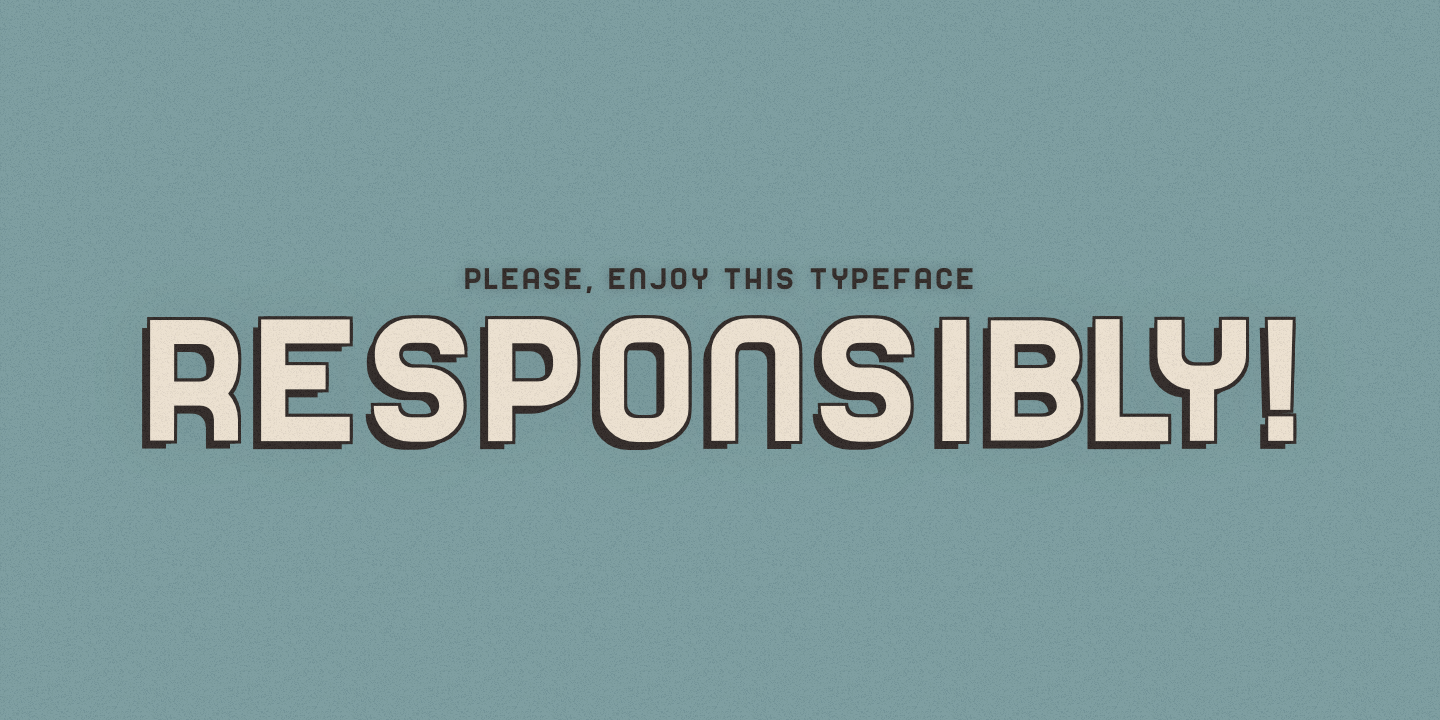 Good Enough is the monospaced typeface used on this site. It was created to be my own temporary typeface for all of my personal branding needs.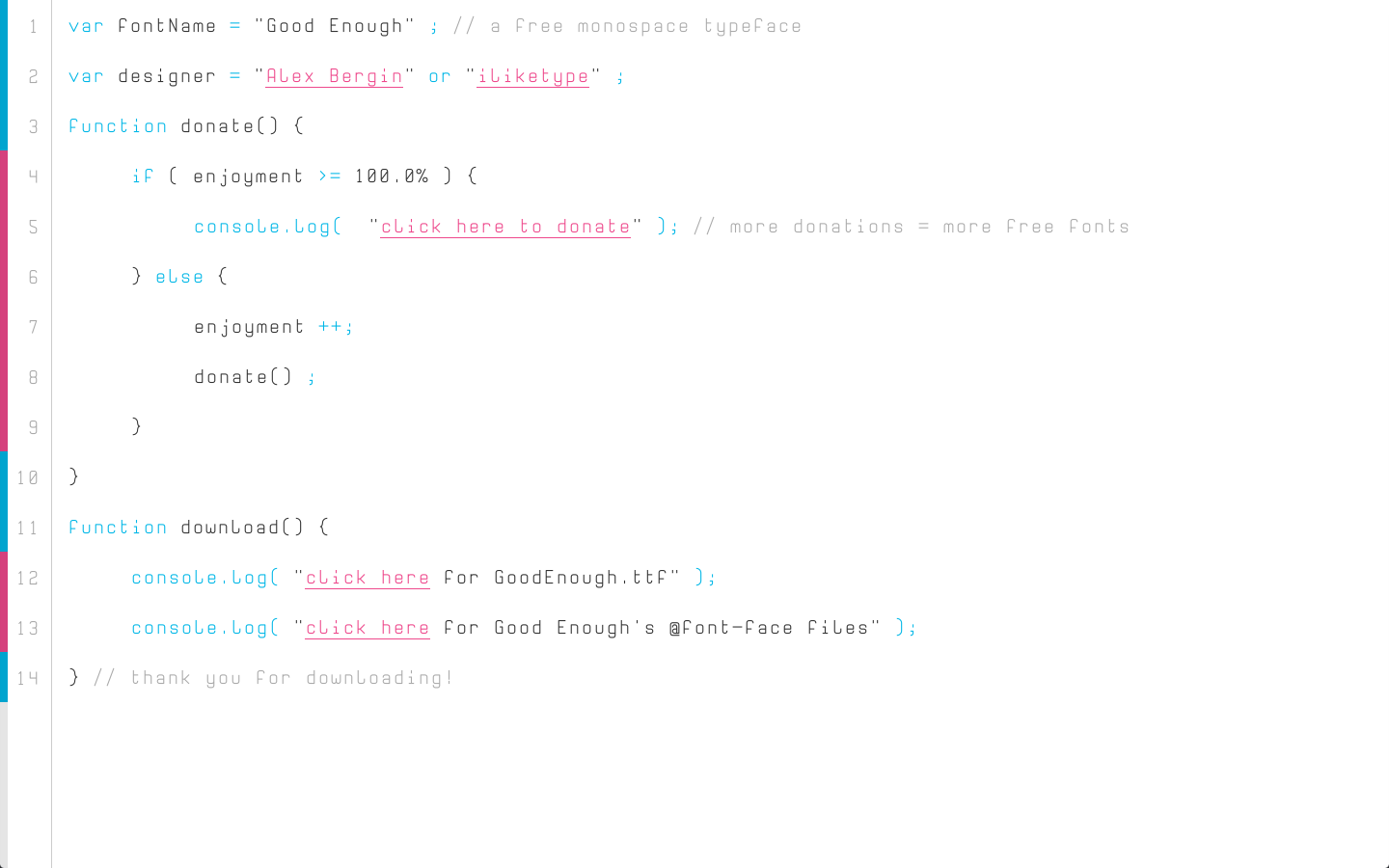 Print
Medium: Books / Printed Material

Crust is a short recipe book that contains instructions for preparing desserts and appetizers, the "crusts" of a meal. The book uses transparencies to hold cards that each have a photo the different foods and their respective recipes. The cover was hand cut and the pages sewn together with red thread. I cooked and photographed all of the food on the cards myself.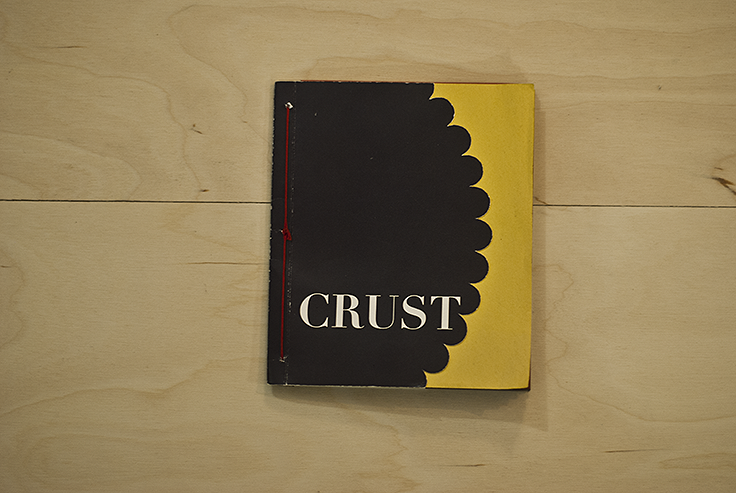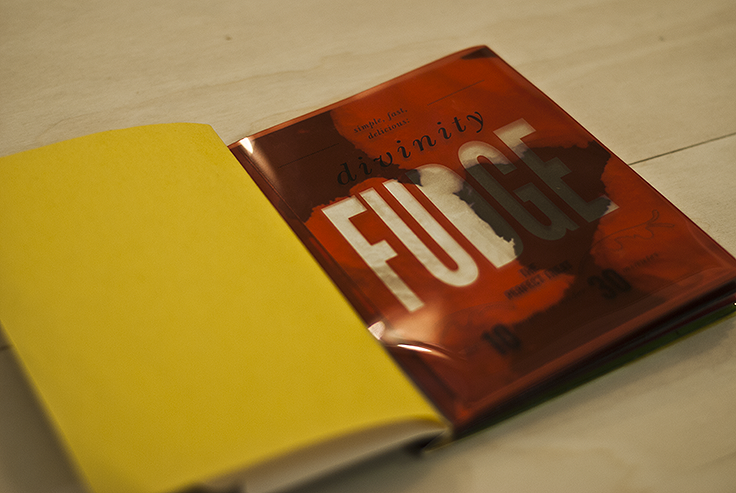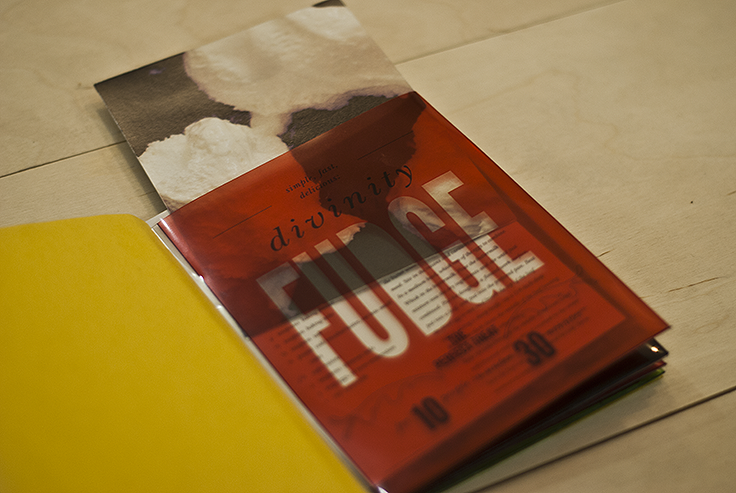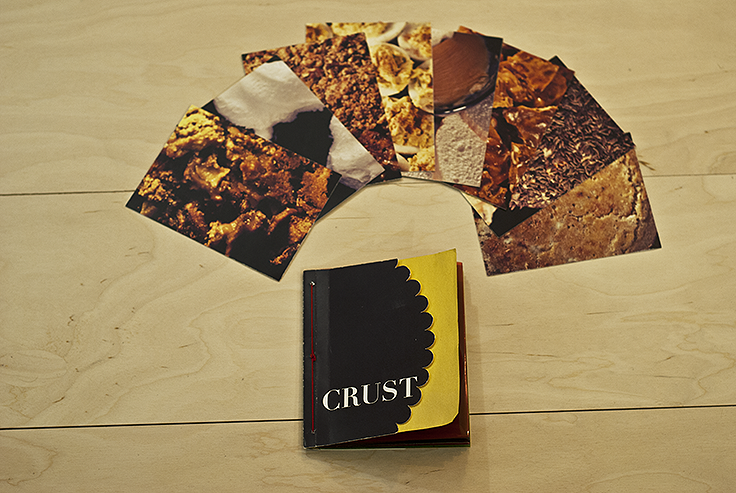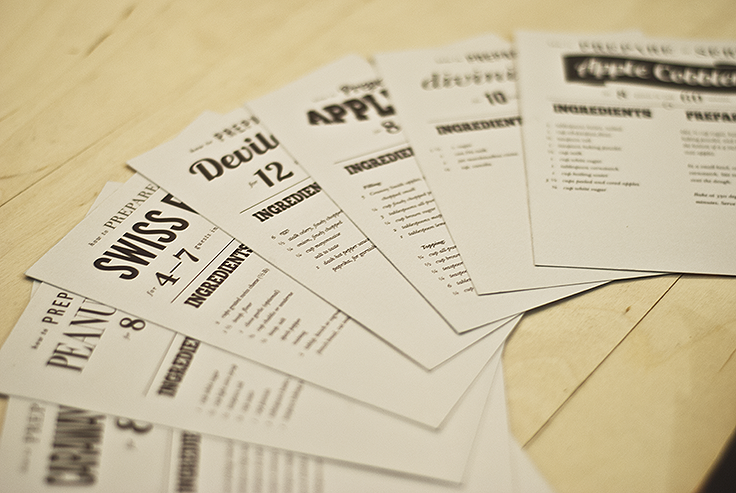 The Fontabet book was made in an elective bookmaking class. I cut up old gold spine children's books to make the cover and then used a stenciling technique to create each letter of the alphabet with a respective typeface (A was for Arial, B for Bodoni, ect).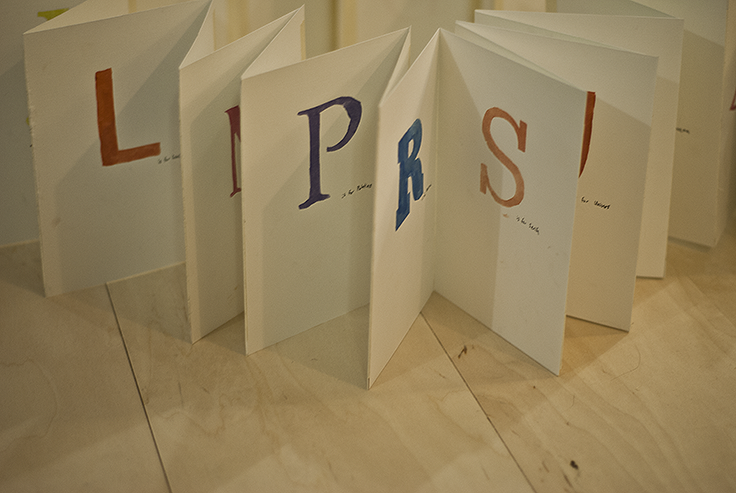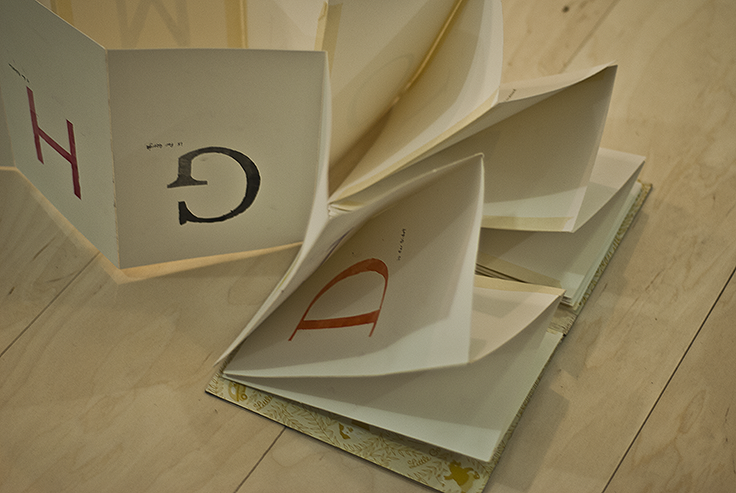 This book (Quotes on Business and Design) was designed near the end of my business practices class as a summary of what we learned about business and design while taking the course. The book was paired with a microsite that gave additional information on each section.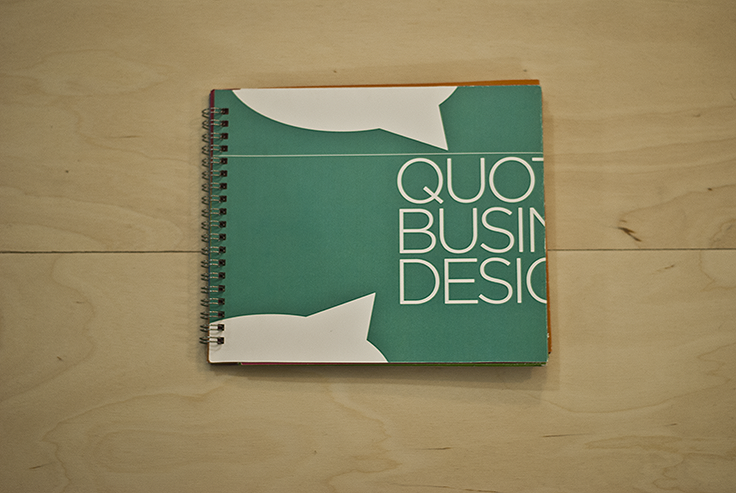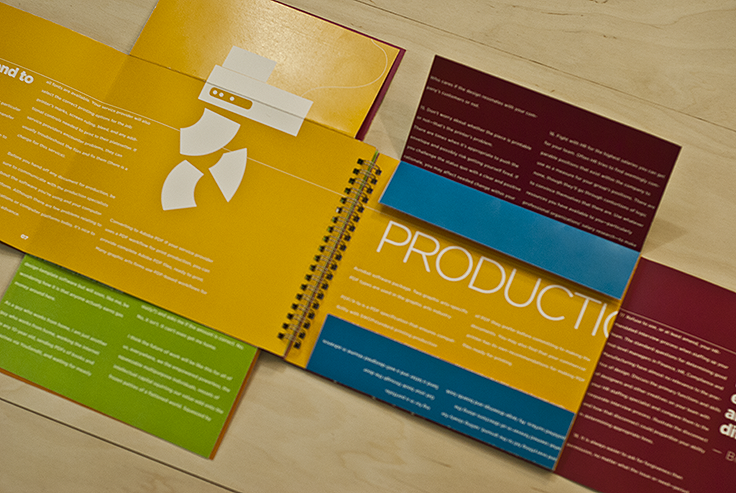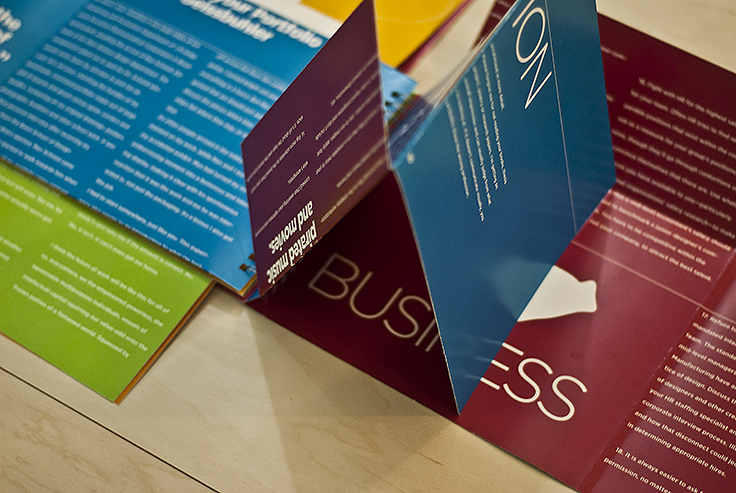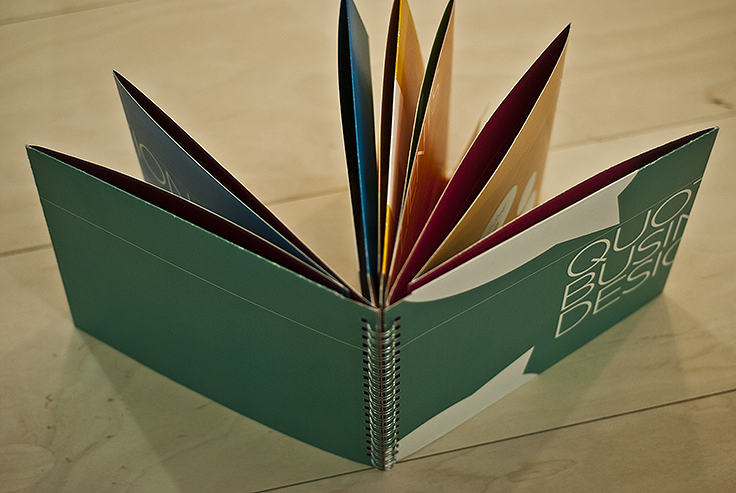 Project one of Visual Communication I called for a utilitarian object, devoid of stylization that we would research and document. Over the course of several weeks, I documented with black and white photography, wrote about, and drew the drafting compass. The photos were taken to show action, rest, parts, and every angle imaginable. The similarities between the styles of photographs taken and the way we are taught to lay out text in type I were intriguing. As the crits went by, type was gradually integrated into the square compositions with varying amounts of hierarchy. The final image and type compositions were mounted on foam board and put on display.